FOR IMMEDIATE RELEASE:
Tuesday, January 29, 2013
Peace Corps Volunteer Builds Youth Center for Filipino Students and Community Members
WASHINGTON D.C., January 29, 2013—Peace Corps volunteer Kelsey Brannock of Wellington, Fla., is working with her Filipino community to build a youth center that will provide study space for students and an area for community volunteers to conduct literacy programs.
"Construction of the youth center began more than two years ago but stopped when funds for the center ran out," said Brannock, a graduate of Florida State University. "The youth currently have no space within their school or community to focus on their studies. The youth center will provide a place for the students to meet, read and study in a comfortable and educationally focused area."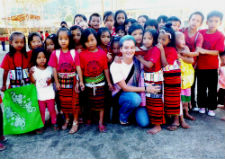 Brannock plans to finish the center with help from her Filipino community and funding through the Peace Corps Partnership Project (PCPP), a program that helps support Peace Corps volunteer community projects worldwide. The community will use funds raised through the PCPP to buy construction materials, paint, shelves and chairs.
In addition to providing an area for academic use, Brannock says the youth center will also serve as a meeting space for community elders. "Filipino communities have great respect for their elders. My community has a group of senior citizen representatives that teach the community about Filipino history and culture, but unfortunately they do not have a meeting place. We hope that the bottom floor of the new center will also serve as an area for the elders to meet regularly," said Bannock, who has been living and working in the Philippines since July 2011.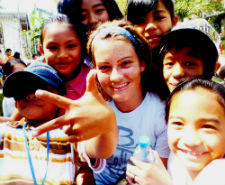 In order to receive funding through the PCPP, a community must make at least a 25 percent contribution to the total project cost and outline success indicators for the individual projects. This helps ensure community ownership and a greater chance of long-term sustainability. One hundred percent of each tax-deductible PCPP donation goes toward a development project. Those interested in supporting Brannock's project in the Philippines can visit www.peacecorps.gov/donate. Brannock's project number is: 492-414.
About Peace Corps/Philippines: More than 8,680 Peace Corps volunteers have served in the Philippines since the program was established in 1961. Currently, 223 volunteers serve in the Philippines. Volunteers work in the areas of education, youth development and coastal resource management. Volunteers are trained and work in Tagalog, the national language, and regional dialects, as appropriate.
About the Peace Corps: Since President John F. Kennedy established the Peace Corps by executive order on March 1, 1961, more than 210,000 Americans have served in 139 host countries. Today, 8,073 volunteers are working with local communities in 76 host countries in agriculture, community economic development, education, environment, health and youth in development. Peace Corps volunteers must be U.S. citizens and at least 18 years of age. Peace Corps service is a 27-month commitment and the agency's mission is to promote world peace and friendship and a better understanding between Americans and people of other countries. Visit www.peacecorps.gov for more information.
# # #
---