FOR IMMEDIATE RELEASE:
Monday, October 27, 2014
Peace Corps Volunteer Builds School Playground and Garden in Madagascar to Improve Student Health
WASHINGTON, D.C., Oct. 27, 2014 – Peace Corps volunteer Jenie Farinas of Peru, Indiana, is giving primary school students in Madagascar an outdoor space to play while teaching them about healthy living through an initiative she launched with her community called Project Healthy Kids. Farinas recently built the school's first playground and is starting a school garden to give students access to nutritious foods and income generating activities.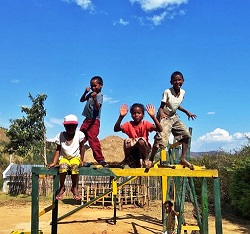 "Project Healthy Kids is an educational program that aims to empower students and teach them about health and life skills," said Farinas, a graduate of Indiana University Bloomington who has been living in Madagascar since 2013.
Soon after arriving at her site, the director of the local primary school asked Farinas to rehabilitate the school yard and garden so students would have an outdoor area to play and learn. Farinas saw the request as an educational opportunity and started Project Healthy Kids with support from school staff and the broader community.
Farinas started by building a playground to teach students about the importance of maintaining an active lifestyle while having fun. Since materials for the playground were limited, Farinas used a manual from an American non-profit organization on building playgrounds in developing communities to guide her in turning everyday objects into safe and versatile playground equipment.
"The location of the new playground used to be an empty dirt lot where the old school foundation once was," Farinas said. "Now the kids have a place to play and are learning about the importance of staying active."
The playground has been a great success, so Farinas decided to focus on creating a school garden next to give students access to nutritious foods, teach them about gardening and food preparation, and sell crops from the garden to generate income for the school. In partnership with a local non-profit organization that provides training and tools for school and community gardens, Farinas and her community have cleared debris from the garden site, planted new crops, and built a compost bin and fence around the perimeter to keep animals from eating the vegetables.
"It's been a fun project to work on, and I really look forward to seeing the garden develop throughout my last six months of service," Farinas said.
The community plans to continue Project Healthy Kids by developing a small, student-run business to sell the garden's crops, creating an outdoor classroom, and continuing to teach students about the importance of health and nutrition.
A portion of funds for Farinas' project were generated through the Peace Corps Partnership Program (PCPP), which supports Peace Corps volunteer community projects worldwide. To receive funding through the PCPP, a community must make at least a 25 percent contribution to the total project cost and outline success indicators for each project, helping to ensure community ownership and a greater chance of long-term sustainability.
About Peace Corps/Madagascar: There are currently 133 volunteers in Madagascar working in the areas of education, agriculture and health. During their service in Madagascar, volunteers learn to speak Malagasy. More than 1,085 Peace Corps volunteers have served in Madagascar since the program was established in 1993.

About the Peace Corps: As the preeminent international service organization of the United States, the Peace Corps sends Americans abroad to tackle the most pressing needs of people around the world. Peace Corps volunteers work at the grassroots level with local governments, schools, communities, small businesses and entrepreneurs to develop sustainable solutions that address challenges in education, health, economic development, agriculture, environment and youth development. When they return home, volunteers bring their knowledge and experiences – and a global outlook – back to the United States that enriches the lives of those around them. President John F. Kennedy established the Peace Corps in 1961 to foster a better understanding among Americans and people of other countries. Since then, more than 215,000 Americans of all ages have served in 139 countries worldwide. Visit www.peacecorps.gov to learn more.
# # #
---