FOR IMMEDIATE RELEASE:
Friday, March 15, 2013
Peace Corps Volunteer Builds Playground in Suriname
WASHINGTON, D.C., March 15, 2013 - Peace Corps volunteer Katherine Sullivan of Reston, Va., is working with her community in Suriname to promote exercise through the construction of a playground that will provide the local children with a safe environment to play.
"This project is part of an effort to provide the children of my community with safer and more structured after school activities. Children often play with found objects such as nails, rocks, old car parts, and razor blades in locations that have a variety of natural and manmade physical hazards," said Sullivan, who holds a master's of public administration from The George Washington University and a bachelor's degree from the University of Michigan. "The playground will be located in a central area where children can be supervised during physical activity without environmental dangers."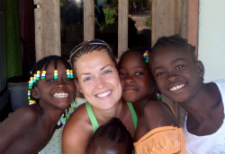 A portion of the funds for the project were raised through the Peace Corps Partnership Program (PCPP), a program that helps support Peace Corps volunteer community projects worldwide. Funding provided by the PCPP will go toward the construction of the playground and playground equipment. The community development association and Peace Corps volunteers are also in the process of implementing several other projects, which include: water tanks for clean drinking water and the construction of a daycare center, scheduled to open this month.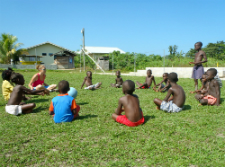 "Together with the opening of the new daycare center and the recent implementation of UNICEF's illustrated water sanitation and hygiene children's book in the elementary school, the playground represents part of a larger effort by the community to build and improve upon early childhood development and child welfare," said Sullivan, who has been working in Suriname as a business volunteer since 2011. "Together, these efforts represent sustainable change."
In order to receive funding through the PCPP, a community must make a 25 percent contribution to the total project cost and outline success indicators for the individual projects. This helps ensure community ownership and a greater chance of long-term sustainability. One hundred percent of each tax-deductible PCPP donation goes toward a development project.
About Peace Corps/Suriname: More than 410 Peace Corps volunteers have served in Suriname since the program was established in 1995. Currently, 49 volunteers serve in Suriname. Volunteers work in the areas of health and community economic development. Volunteers are trained and work in the following languages: Aucan, Sranan Tongo and Saramaccan.
About the Peace Corps: Since President John F. Kennedy established the Peace Corps by executive order on March 1, 1961, more than 210,000 Americans have served in 139 host countries. Today, 8,073 volunteers are working with local communities in 76 host countries in agriculture, community economic development, education, environment, health and youth in development. Peace Corps volunteers must be U.S. citizens and at least 18 years of age. Peace Corps service is a 27-month commitment and the agency's mission is to promote world peace and friendship and a better understanding between Americans and people of other countries. Visit www.peacecorps.gov for more information.
# # #
---