FOR IMMEDIATE RELEASE:
Wednesday, October 17, 2012
Peace Corps Volunteer Builds Library in the Dominican Republic
WASHINGTON, D.C., October 18, 2012 – Peace Corps volunteer Claire McManus of Potomac, Md., is working with Dominican community members to build a library in the local school, which will be the only library in the village.

"Currently, community members either have to rely on the limited materials at the local community center or have to venture outside of the town to access information, including newspapers," said McManus, a graduate of Penn State University. "The new library will promote self-learning and literacy through access to books and computer programs, in addition to imparting management skills to the teachers and students that will run and maintain the library."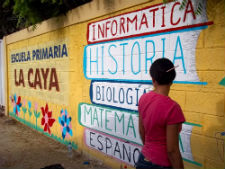 The school library will provide 215 students, ages 5 to 18, and 20 staff members with access to computers, books and reference materials. A portion of the funds for the project will be raised through the Peace Corps Partnership Program (PCPP), a program that helps support Peace Corps volunteer community projects worldwide.
McManus' community has already created a Library Committee which, with the help of Peace Corps training, will ensure the project's sustainability.
"The enthusiasm that this community shares regarding this library project is inspiring," said McManus, who has been living and working in the Dominican Republic as an information and communication technology education volunteer since March 2011. "With their contributions and continued efforts, we will not only have shelves of books but we will also have a thriving information resource center to benefit generations of learners."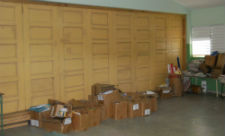 The community will use funds raised through the PCPP to buy books, bookshelves, chairs, tables, two computers, a projector and speakers. This new equipment will give students access and exposure to educational videos and resources online, including the chance to chat live on Skype with classrooms in the United States.
The community and school have already donated 28 percent of the total cost. In order to receive funding through the PCPP, a community must make at least a 25 percent contribution to the total project cost and outline success indicators for the individual projects. This helps ensure community ownership and a greater chance of long-term sustainability.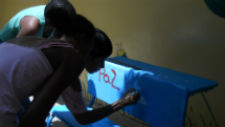 One hundred percent of each tax-deductible PCPP donation goes toward a development project. Those interested in supporting McManus' project in the Dominican Republic can visit: www.peacecorps.gov/donate. McManus' project number is: 517-523.
About Peace Corps/Dominican Republic: More than 4,220 Peace Corps volunteers have served in the Dominican Republic since the program was established in 1962. Currently, 220 volunteers serve in the Dominican Republic. Volunteers work in the areas of community development, health, education, environment and business. Volunteers are trained and work in Spanish and basic Haitian Kreyol.
About the Peace Corps: Since President John F. Kennedy established the Peace Corps by executive order on March 1, 1961, more than 200,000 Americans have served in 139 host countries. Today, 9,095 volunteers are working with local communities in 75 host countries. Peace Corps volunteers must be U.S. citizens and at least 18 years of age. Peace Corps service is a 27-month commitment and the agency's mission is to promote world peace and friendship and a better understanding between Americans and people of other countries. Visit www.peacecorps.gov for more information.
# # #
---