FOR IMMEDIATE RELEASE:
Monday, April 28, 2014
Peace Corps Volunteer Builds Library at Ugandan School to Encourage Reading among Students
WASHINGTON, D.C., April 28, 2014 – Peace Corps volunteer Lantana Hoke of Haiku, Hawaii is building a library for students at her local school in Uganda to promote literacy. Since beginning her Peace Corps service in November 2012, Hoke has seen a desire for books and educational materials in her community.
"They love to look at books," said Hoke, a graduate of Mary Baldwin College in Virginia. "Watching them listen to a read aloud is like watching American children at a movie; they lean forward, enthralled, and talk excitedly to each other about the pictures."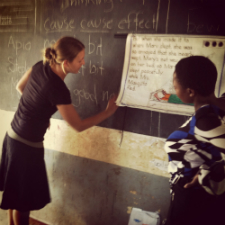 To encourage students to use the new library and read more regularly, Hoke received a grant from a U.S.-based nonprofit organization that allows her and her fellow teachers to reward students who take advantage of the new resources available to them.
"As a staff, we came up with a system of giving students 'Angel Tickets' when they exhibit good behavior or complete certain tasks in the library like reading and answering questions, looking up words in the dictionary or other positive behaviors," Hoke said.
At the end of each week, students can earn game or movie nights, and at the end of the school year, students can earn a field trip to Kampala, Uganda's capital city.
"By rewarding positive behavior and the use of the library, I hope to jumpstart student and teacher involvement in reading, literacy and a focus on rewarding positive behavior," Hoke said.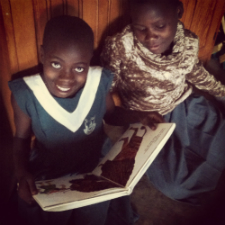 A Peace Corps Small Project Assistance grant is helping to fund the library, and local community members are contributing as well. Students' mothers are weaving floor mats, a local tailor is sewing curtains, and a local woodshop is building furniture and shelves.
By actively motivating her students to use the library – even after she returns to the United States – Hoke hopes that more of her community members will learn to read and write.
About Peace Corps/Uganda: There are currently 137 volunteers in Uganda working in the areas of health, education and community economic development. During their service in Uganda, volunteers learn to speak the local languages, including: Ateso, Dhopadhola, Luganda, Lugwere, Lumasaaba, Lusoga, Runyakore, Runyole, Runyoro-Rutoro and Uhopadhola. More than 1,305 Peace Corps volunteers have served in Uganda since the program was established in 1964.
About the Peace Corps: As the preeminent international service organization of the United States, the Peace Corps sends Americans abroad to tackle the most pressing needs of people around the world. Peace Corps volunteers work at the grassroots level with local governments, schools, communities, small businesses and entrepreneurs to develop sustainable solutions that address challenges in education, health, economic development, agriculture, environment and youth development. When they return home, volunteers bring their knowledge and experiences – and a global outlook – back to the United States that enriches the lives of those around them. President John F. Kennedy established the Peace Corps in 1961 to foster a better understanding among Americans and people of other countries. Since then, more than 215,000 Americans of all ages have served in 139 countries worldwide. Visit www.peacecorps.gov to learn more.
# # #
---