FOR IMMEDIATE RELEASE:
Tuesday, April 7, 2015
Peace Corps Volunteer Builds Gym to Engage Lesotho Community on Health Education & HIV/AIDS Prevention
WASHINGTON, D.C., April 7, 2015 – Peace Corps volunteer Evan Brown of Eads, Tennessee, is building a health club in Lesotho to give his community a safe place to exercise and learn about HIV/AIDS prevention and treatment. The new club will provide nearly 7,000 community members with access to programs that combine exercise and health education in a country where more than 22 percent of the population is living with HIV/AIDS, according to UNAIDS.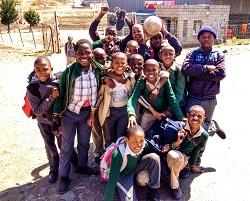 "I saw an opportunity to tie youth and health programming together with the building of a gym," said Brown, a graduate of the University of Arkansas who has been living in Lesotho since 2013. "The gym will allow the fun of exercise to help draw in youth and the opportunity to teach key concepts of life skills and sexual health education to the captive audience."
Brown was inspired to start the project after noticing that resources and knowledge on subjects related to health – and sexual health in particular – were lacking at the local school. To ensure the project's sustainability, Brown is collaborating with 13 community members and six local organizations to write a health curriculum and build the facility. Once open, the health club will charge a nominal fee to cover basic costs of the gym.
"Our hope is that community members who utilize the facility and learn about health will share their newly acquired knowledge with their friends, family, and co-workers," Brown said.
A portion of Brown's project was funded by the Peace Corps Partnership Program (PCPP), which supports Peace Corps volunteer community projects worldwide. In order to receive PCPP funding, a community must make at least a 25 percent contribution to the total project cost and outline success indicators for each individual project. One hundred percent of each tax-deductible PCPP donation goes toward a development project.
"I feel comfortable this project will be able to continue and thrive even after I return home to the U.S.," Brown said.
Peace Corps volunteers play a key role in combating HIV/AIDS through programs in more than 60 countries worldwide and help to advance the mission of the U.S. President's Emergency Plan for AIDS Relief (PEPFAR). The Peace Corps trains all volunteers who serve in Africa, the Caribbean, Eastern Europe, and Central Asia to be advocates and educators of HIV/AIDS prevention and care. The language and cultural training that Peace Corps volunteers receive during their service uniquely positions them to play an essential role in the fight against HIV/AIDS.
About Peace Corps/Lesotho: There are 78 volunteers in Lesotho working with their communities on projects in education and health. During their service in Lesotho, volunteers learn to speak Sesotho. More than 2,330 Peace Corps volunteers have served in Lesotho since the program was established in 1967.
About the Peace Corps: The Peace Corps sends the best and brightest Americans abroad on behalf of the United States to tackle the most pressing needs of people around the world. Volunteers work at the grassroots level to develop sustainable solutions that address challenges in education, health, economic development, agriculture, environment and youth development. Through their service, volunteers gain a unique cultural understanding and a life-long commitment to service that positions them to succeed in today's global economy. Since President John F. Kennedy established the Peace Corps in 1961, nearly 220,000 Americans of all ages have served in 140 countries worldwide. For more information, visit www.peacecorps.gov and follow us on Facebook and Twitter.
# # #
---