FOR IMMEDIATE RELEASE:
Wednesday, May 9, 2012
Peace Corps Volunteer Builds Girls Dorm in Malawi
WASHINGTON, D.C., May 9, 2012 – Peace Corps volunteer Erica Ward of Asheville, N.C., is working with her community in Malawi to construct a girls' dormitory for the local boarding school. The new dormitory will allow more students to attend the school and provide additional classroom space for nearly 300 students. A portion of the funds for the project will be raised through the Peace Corps Partnership Program (PCPP), a program that helps support Peace Corps volunteer community projects worldwide.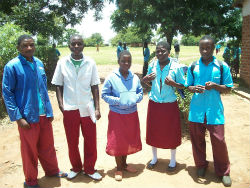 "The girl boarders are currently living in an old classroom block, which is problematic," said Ward, who has been working as an education volunteer since July 2010. "Their living space is crowded, which is unpleasant and unsanitary, and the classroom block that could be used for classes is being used as a dorm, which means that the other classroom blocks are overcrowded."

The local boarding school serves students from rural areas in the central region of Malawi. Male students currently live in a dormitory. Many of the non-boarding students walk 10 kilometers per day both to and from school, which prevents some students from completing their education.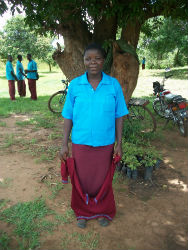 The school and community have agreed to provide locally available building materials such as bricks, quarry and sand. PCPP funds will be used to purchase additional materials and pay for the construction of the dorm.

In order to receive funding through the PCPP, a community must make a 25 percent contribution to the total project cost and outline success indicators for the individual projects. This helps ensure community ownership and a greater chance of long-term sustainability.

One hundred percent of each tax-deductible PCPP donation goes toward a development project. Those interested in supporting Ward's project in Malawi can visit: www.peacecorps.gov/donate. Ward's project number is 614-234.

About Peace Corps/Malawi: More than 2,520 Peace Corps volunteers have served in Malawi since the program was established in 1963. Currently, 126 volunteers serve in Malawi. Volunteers work in the areas of education, environment, agriculture and health. Volunteers are trained and work in the following languages: Chichewa, Chilambya, Chilomwe, Chindali, Chisena, Chitonga and Chitumbuka.

About the Peace Corps: Since President John F. Kennedy established the Peace Corps by executive order on March 1, 1961, more than 200,000 Americans have served in 139 host countries. Today, 9,095 volunteers are working with local communities in 75 host countries. Peace Corps volunteers must be U.S. citizens and at least 18 years of age. Peace Corps service is a 27-month commitment and the agency's mission is to promote world peace and friendship and a better understanding between Americans and people of other countries. Visit www.peacecorps.gov for more information.
# # #
---