FOR IMMEDIATE RELEASE:
Tuesday, June 24, 2014
Peace Corps Volunteer Builds First Bathroom in Senegal School
New facility will improve local sanitation and health
Washington, D.C., June 27, 2014 – Peace Corps volunteer Karen Chaffraix, 57, of Warrenton, Va., is working with her community members in Senegal to install the first bathroom facility at a nearby elementary school. The new three-stall facility is complete with running water for hand-washing and will help prevent water contamination and disease through safe and effective waste disposal.
"The community built the school, but didn't have the funding to install bathrooms at the time," said Chaffraix, who has been living in Senegal since Sept. 2012. "Students were forced to use the bushes around the school or wait until they got home."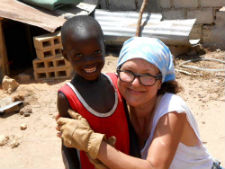 Community members and school staff have attempted to build a bathroom for the school, but were deterred by large boulders that required machinery to remove.
"The community has been trying for years to add bathrooms," said Chaffraix, a graduate of American University. "They knew that a functioning bathroom was imperative for student and teacher health as well as environmental sanitation."
A meeting with the school's director, two teachers, and a local parent led to community pledges of labor, supplies and design ideas if funds could be identified to support the project. Through the Peace Corps Partnership Program (PCPP), which supports Peace Corps volunteer community projects worldwide, Chaffraix was able to raise the money they needed. In order to receive funding through the PCPP, a community must make at least a 25 percent contribution to the total project cost and outline success indicators for each project. This helps to ensure community ownership and a greater chance of long-term sustainability.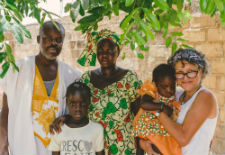 A local mason helped direct the project and Chaffraix worked with school staff and community members to dig a pit for the facility and install the bathroom. Now that the bathroom is complete, staff are teaching students about safe and healthy bathroom use and encouraging regular and effective hand-washing practices.
"Continued community participation is essential to the success of the project," Chaffraix said. "Hopefully those involved will be empowered to undertake future projects and will contribute to improved health and sanitation for all."
About Peace Corps/Senegal: There are currently 278 Volunteers in Senegal working in the areas of agriculture, environment, health and community economic development. During their service in Senegal, Volunteers learn to speak the local languages, including: French, Wolof, Pulaar du Nord, Fulakunda, Pulafuta, Seereer, Malinke, Mandinka and Jaxanke. More than 3,435 Peace Corps Volunteers have served in Senegal since the program was established in 1962.
About the Peace Corps: As the preeminent international service organization of the United States, the Peace Corps sends Americans abroad to tackle the most pressing needs of people around the world. Peace Corps volunteers work at the grassroots level with local governments, schools, communities, small businesses and entrepreneurs to develop sustainable solutions that address challenges in education, health, economic development, agriculture, environment and youth development. When they return home, volunteers bring their knowledge and experiences—and a global outlook—back to the United States that enriches the lives of those around them. President John F. Kennedy established the Peace Corps in 1961 to foster a better understanding among Americans and people of other countries. Since then, more than 215,000 Americans of all ages have served in 139 countries worldwide. Visit www.peacecorps.gov to learn more.
# # #
---