FOR IMMEDIATE RELEASE:
Monday, August 20, 2012
Peace Corps Volunteer Builds Classroom for Students with Disabilities in Peru
WASHINGTON D.C., August 20, 2012 - Peace Corps volunteer Ana De la Rosa of Orlando, Fla., is working with her local community to build a new classroom for students with learning disabilities and provide additional training at the local primary school in northern Peru. The new classroom will include computers outfitted with educational software and updated classroom equipment that will create a more vibrant learning environment for the students. The classroom will also include new floor mats, step ladders, toys and a trampoline. A portion of the funds for the project will be raised through the Peace Corps Partnership Program (PCPP), a program that helps support Peace Corps volunteer community projects worldwide.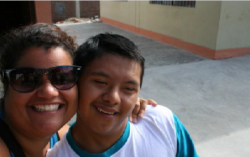 "The classroom will be a stimulating environment of lights, sounds and tactile experiences, specially designed to tap into the unique abilities of each student," said De la Rosa, who has been a community health volunteer in Peru since September 2010. "The students have disabilities such as Down syndrome, cerebral palsy, mental retardation, or autism, as well as physical and behavioral disabilities. The new specialized learning materials, including adaptive computer technology, will allow each student to explore his or her senses and interact with the world in a more stimulating environment."
Parent involvement is an important part of learning and community acceptance, especially among families with children who have learning disabilities. "Many of the mothers stay at school and work with their children all day. This allows for these moms to be very hands on with the workings of the new classroom and then help spread the word about the benefits," continued De la Rosa. "They do not just drop off their kids and see the benefits later, they are responsible for teaching their kids in this new classroom and helping recruit more mothers."
De la Rosa's community has contributed 40 percent of the funds needed to complete the project. A community must provide at least 25 percent of the project funds necessary to receive funding through the PCPP. This helps ensure community ownership and a greater chance of long-term sustainability. The new learning center will also be available to other students who attend the school and live in the community.
One hundred percent of each tax-deductible PCPP donation goes toward a development project. Those interested in supporting De la Rosa's project can visit: www.peacecorps.gov/donate. De la Rosa's project number is 527-123.
About Peace Corps/Peru: More than 3,050 Peace Corps volunteers have served in Peru since the program was established in 1962. Currently, 299 volunteers serve in Peru. Volunteers work in the areas of youth development, small business development, health and environment. Volunteers are trained and work in Spanish, and some receive language training in Quechua.
About the Peace Corps: Since President John F. Kennedy established the Peace Corps by executive order on March 1, 1961, more than 200,000 Americans have served in 139 host countries. Today, 9,095 volunteers are working with local communities in 75 host countries. Peace Corps volunteers must be U.S. citizens and at least 18 years of age. Peace Corps service is a 27-month commitment and the agency's mission is to promote world peace and friendship and a better understanding between Americans and people of other countries. Visit www.peacecorps.gov for more information.
# # #
---