FOR IMMEDIATE RELEASE:
Wednesday, January 22, 2014
Peace Corps Volunteer Brings the First Bookmobile to Underserved Communities in Georgia
Library on wheels offers books, videos and Internet access to isolated communities for free
WASHINGTON, D.C., January 22, 2014 – Peace Corps volunteer Kristen Moses of North Potomac, Md., recently joined U.S. Ambassador to Georgia Richard Norland and local community members to celebrate the launch of the country's first bookmobile, a traveling bus that brings educational programming and resources to underserved communities.
In collaboration with a local non-governmental organization and the U.S. Embassy, Moses worked to expand the embassy's American Corners library project by using an old school bus donated from the United States to create the mobile learning center. The bookmobile has already reached more than 6,000 people across three settlements that are home to families displaced from South Ossetia following conflict in the region in 2008.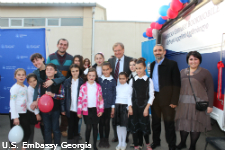 "In such isolated communities, any extra attention and after-school activities are a great opportunity for the young people," said Moses, a graduate of Northwestern University. "This year, we hope to expand our reach and bring the bookmobile to more Internally Displaced Persons (IDP) settlements in the region."
The bookmobile spends five days in each community and focuses on youth engagement. The interior of the school bus was gutted and outfitted with bookshelves, beanbag chairs and folding tables to create the feel of a real library. Inside, the bus features books in English for all reading levels, DVDs, laptops with wireless Internet, and a projector and screen, among other resources. All are available free of charge to anyone in the community.
"Kids are able to practice their English skills and learn about American culture, while we also engage them on issues like environmental awareness, healthy lifestyle choices, job skills training, civic engagement and more," Moses said.
The bookmobile project is funded by the U.S. Embassy through American Corners —a joint partnership project that promotes cooperation and understanding between the United States and Georgia by providing accurate information about the United States. American Corners are small, American-style libraries located within a local partner organization.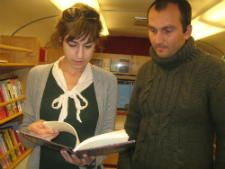 A graduate student at American University's School of International Service, Moses is working on a degree in social enterprise through the Peace Corps' Master's International program. Master's International offers students the unique opportunity to integrate a master's degree with overseas service in a variety of fields at more than 80 academic institutions nationwide.
"Peace Corps has given me the perfect opportunity to get more field experience," Moses said.
About Peace Corps/Georgia: There are currently 71 volunteers in Georgia working in the areas of English education and community economic development. During their service in Georgia, volunteers learn to speak Georgian. More than 515 Peace Corps volunteers have served in Georgia since the program was established in 2001.
About the Peace Corps: As the preeminent international service organization of the United States, the Peace Corps sends Americans abroad to tackle the most pressing needs of people around the world. Peace Corps volunteers work at the grassroots level with local governments, schools, communities, small businesses and entrepreneurs to develop sustainable solutions that address challenges in education, health, economic development, agriculture, environment and youth development. When they return home, volunteers bring their knowledge and experiences – and a global outlook – back to the United States that enriches the lives of those around them. President John F. Kennedy established the Peace Corps in 1961 to foster a better understanding among Americans and people of other countries. Since then, more than 215,000 Americans of all ages have served in 139 countries worldwide. Visit www.peacecorps.gov to learn more.
# # #
---