FOR IMMEDIATE RELEASE:
Thursday, October 23, 2014
Peace Corps Volunteer Brings School Lunches and Clean Water to Tanzanian Community During Dry Season
WASHINGTON, D.C., Oct. 23, 2014 – Peace Corps volunteer Deirdre Clarke of Olympia, Washington, has helped guarantee regular school lunches for 260 primary school students in Tanzania and drinking water for her entire community. With little access to clean water during the dry season, Clarke and her fellow community members built new rainwater catchment wells near the local school and village center.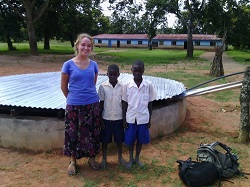 "Cooking meals requires water, so during the dry season, students were going a full school day without water or food," said Clarke, a graduate of Whitman College, who has been living in Tanzania since 2012. "The dry season is stressful for so many members of this community because they have to spend a large part of their day searching for water instead of working on other crucial subsistence activities, like planting and harvesting crops."
When the community's original water catchment system from the 1920s failed, the need was clear. Clarke collaborated with the primary school headmaster and members of the village government to plan and design the wells' construction. Two wells were built for the school and one larger well was built for the community.
"This project's success has helped address the local water shortage and increased the self-esteem of the village as a whole," Clarke said. "This was really a community-driven project because nearly everyone recognized the challenge of lacking an accessible water supply."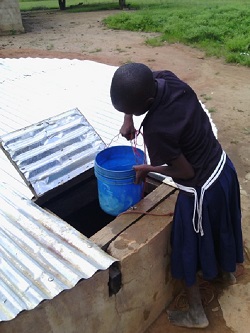 Construction of the three wells was partially funded through a grant from the Peace Corps' Volunteer Activities Support and Training program and took about five months to complete. Now, rainwater flows from the catchment system into covered wells to ensure it is safe for cooking and drinking.
"I am so proud of my community for their hard work and commitment, and am relieved that this year's dry season will hopefully be easier than years before," Clarke said.
About Peace Corps/Tanzania: More than 2,410 Peace Corps volunteers have served in Tanzania since the program was established in 1961. Currently, 167 volunteers serve in Tanzania. Volunteers work in the areas of education, environment, agriculture and health. Volunteers are trained and work in the Kiswahili language.
About the Peace Corps: As the preeminent international service organization of the United States, the Peace Corps sends Americans abroad to tackle the most pressing needs of people around the world. Peace Corps volunteers work at the grassroots level with local governments, schools, communities, small businesses and entrepreneurs to develop sustainable solutions that address challenges in education, health, economic development, agriculture, environment and youth development. When they return home, volunteers bring their knowledge and experiences – and a global outlook – back to the United States that enriches the lives of those around them. President John F. Kennedy established the Peace Corps in 1961 to foster a better understanding among Americans and people of other countries. Since then, more than 215,000 Americans of all ages have served in 139 countries worldwide. Visit www.peacecorps.gov to learn more.
# # #
---