FOR IMMEDIATE RELEASE:
Wednesday, January 2, 2013
Peace Corps Volunteer and Women's Cooperative Reopen Restaurant in Belize
Washington, D.C., January 2, 2013 - Peace Corps volunteer Meghan VanDeventer of Barrington, R.I., is helping to empower and employ more than 20 members of a local women's cooperative in Belize by working to reopen a restaurant in the community after it was destroyed by a fires in 2003 and 2005. The Sandy Beach Women's Cooperative owns and operates the recently restored Sandy Beach Restaurant, which reopened in November.
The Sandy Beach Women's Cooperative was originally formed in 1986 with the help of a Peace Corps volunteer and became the first women's cooperative registered in Belize. Through a small grant, the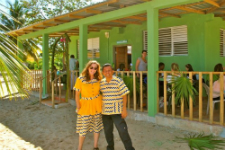 cooperative established and ran a successful lodge and restaurant until the entire property was destroyed. For seven years, cooperative members have been trying to restore the property. With help from VanDeventer and several local organizations, they built a new structure for the restaurant.
"The women involved directly benefit because they are now able to employ themselves once again," said VanDeventer, a graduate of the University of Delaware who has been living and working in Belize since 2011. "The financial benefit is obvious and necessary as many of the women are responsible for housing and feeding themselves and their children. But I believe the self-confidence that comes with being a business owner is perhaps an even greater benefit."
The new structure is complete with a bar, patio, kitchen and dining area. In addition to helping with the funding and construction, VanDeventer worked with cooperative members to create a sustainable business plan and has led sessions on basic business management, bookkeeping and accounting skills.

On November 16, the cooperative held an official opening ceremony for the restaurant. They look forward to restoring the lodging portion of the property in the future.
"I believe the Sandy Beach Women's Co-Op will be successful given the delicious local Garifuna cuisine, cultural appeal and idyllic location. Not only that, the youth in the community will look to the ladies of Sandy Beach and believe that they themselves can be entrepreneurs too," said VanDeventer.
About Peace Corps/Belize: More than 1,915 Peace Corps volunteers have served in Belize since the program was established in 1962. Currently, 34 volunteers serve in Belize. Volunteers work in the areas of education, business development and health. Volunteers are trained and work in the following languages: Garifuna, Q'eqchi, Kriol, Mopan and Spanish.
About the Peace Corps: Since President John F. Kennedy established the Peace Corps by executive order on March 1, 1961, more than 210,000 Americans have served in 139 host countries. Today, 8,073 volunteers are working with local communities in 76 host countries in agriculture, community economic development, education, environment, health and youth in development. Peace Corps volunteers must be U.S. citizens and at least 18 years of age. Peace Corps service is a 27-month commitment and the agency's mission is to promote world peace and friendship and a better understanding between Americans and people of other countries. Visit www.peacecorps.gov for more information.
# # #
---