FOR IMMEDIATE RELEASE:
Wednesday, March 24, 2010
Peace Corps Uganda Reacts to Mudslide Disaster
WASHINGTON, D.C., March 24, 2010 Peace Corps/Uganda volunteers rapidly responded to the March 1 mudslides in the remote Bududa region of eastern Uganda that killed over 90 people and displaced thousands.
Peace Corps volunteers live and work in many local communities in Uganda. The volunteers whose host communities were close to Bududa we able to quickly respond to the natural disaster. Nicole Fiol Molina from Bayamn, Puerto Rico was the first Peace Corps volunteer to arrive at the site. She participated in the initial recovery effort and helped organize a water distribution system at a makeshift camp for displaced people.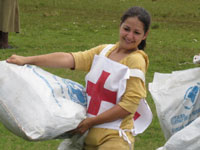 Within hours of the mudslides, Peace Corps volunteers Lisa Balland from Cheyenne, Wyo.; Peter Butzen from Hoffman Estates, Ill.; Laura Corcoran from Chillicothe, Ohio; Cassandra Henderson from Mapleton, Utah; Greg Hoffman from Rehoboth Beach, Del.; Daniel Koza from Portland, Ore.; Lauren Myers-Bromwell from Union Bridge, Md.; Casey OConnell from Saint Paul, Minn.; Claudia Quintas from Glastonbury, Conn.; Omar and Mona Sharif from Corona, Calif.; Amy Wilkinson from Chesterfield, N.H.; and Peace Corps Country Director Ted Mooney arrived at the site.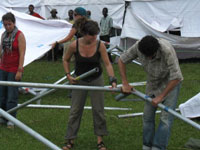 In the immediate aftermath of the mudslides, Peace Corps/Uganda assisted the Uganda Red Cross and UNICEF in their efforts to set up facilities in a nearby village for the displaced Ugandans.
I am extremely proud of our volunteers who worked tirelessly in the spirit of cooperation to help a Ugandan community in need, said Peace Corps/Uganda Country Director Ted Mooney. These volunteers demonstrated their commitment to working with Ugandans, not just in the classrooms and community centers, but especially during a difficult period.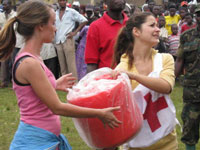 Peace Corps/Uganda will continue to assist in the daily operations of the relief efforts. All Peace Corps volunteers are safe and living in communities unaffected by the mudslides.
Over 1,000 Peace Corps volunteers have served in Uganda since the program was established in 1964. The majority of the volunteers in this East African nation are working to promote HIV/AIDS awareness and prevention techniques. Volunteers also work to strengthen English, math, and science education. Currently, 154 volunteers are serving in Uganda.
As Peace Corps approaches its 50th anniversary, its service legacy continues to promote peace and friendship around the world with 7,671 volunteers serving in 76 host countries. Historically, nearly 200,000 Americans have served with the Peace Corps to promote a better understanding between Americans and the people of 139 host countries. Peace Corps volunteers must be U.S. citizens and at least 18 years of age. Peace Corps service is a 27-month commitment.
# # #
# # #
---