FOR IMMEDIATE RELEASE:
Monday, December 3, 2007
Peace Corps Togo Celebrates 45th Anniversary
Deputy Director Olsen visits Togo and celebrates over four decades of Peace Corps service in this West African nation
Lom, Togo, Dec. 3, 2007 Peace Corps Deputy Director Jody K. Olsen recently returned from the Republic of Togo where she participated in the anniversary celebration of Peace Corps 45 years of service. The celebration, held on November 28, was attended by over 100 people, including the U.S. Ambassador to Togo David Dunn, representatives of the Togolese government, current and former Peace Corps Volunteers and Togolese citizens.
The Peace Corps program in Togo has benefited from 45 years of friendship and collaboration with the Togolese people, said Deputy Director Olsen. In my travels around the country, the Togolese people have been warm and welcoming, often expressing thanks for the hard work of Volunteers in their communities.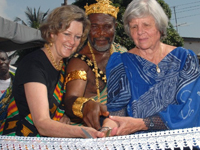 In addition to a speech by Deputy Director Olsen, the celebration included remarks from Ambassador Dunn, Peace Corps Country Director Rebekah Brownie Lee, a Togolese government representative, Peace Corps Volunteers and Togolese counterparts. Country Director Lee served as an education Volunteer in 1962, in the first group of Peace Corps Volunteers, and Deputy Director Olsen served as a Country Director in Togo from 1979-1981.
In honor of the 45th Anniversary of Peace Corps/Togo, Olsen, along with a local chief, inaugurated two new Peace Corps buildings, and participated in several activities organized by Volunteers, including a neighborhood HIV/AIDS training session and the painting of a world map at a high school in the capital. Additionally, Olsen traveled around the country to meet Volunteers such as Adaeze Igwe, originally of Nigeria and currently of Washington, D.C., and Gabriel Nehrbass of New Orleans, La.
Adaeze Igwe, who previously worked at the World Bank, is a small enterprise development Volunteer, working with local artisans to strengthen their business plans and facilitate their expansion to overseas markets. Igwes desire for grassroots experience in economic development motivated her to join the Peace Corps.
Gabriel Nehrbass is serving in a rural community as a natural resource management Volunteer. In his village, he is working with local farmers to increase crop yields in the dry season. Nehrbass is also trying to prevent erosion of the fields from a nearby river and has established a model farm in his community.
Peace Corps Volunteers first arrived in Togo, a West African country between Ghana and Benin, in 1962. Since that time, over 2,300 Volunteers have served throughout the country, whose size is slightly smaller than West Virginia. Currently, 103 Volunteers are serving in Togolese villages and communities, working in the sectors of community health and AIDS prevention, girls empowerment and education, the environment, and small enterprise development.
To learn more about Peace Corps/Togo, visit the
Where Do Volunteers Go?
section of the Peace Corps website.
The Peace Corps is celebrating a 46-year legacy of service at home and abroad. Currently there are over 8,000 Volunteers abroad, a 37-year high for Volunteers in the field. Since 1961, more than 190,000 Volunteers have helped promote a better understanding between Americans and the people of the 139 countries where Volunteers have served. Peace Corps service is a 27-month commitment.
# # #
# # #
---