Peace Corps to Phase Out Program in Suriname by July 2013
April 11, 2013
WASHINGTON, D.C., April 11, 2013 – The Peace Corps today announced that it is phasing out of its program in Suriname after an 18-year partnership. The agency office will officially close at the end of July 2013.
"Since 1995, Peace Corps volunteers and staff in Suriname have worked closely with community partners and government institutions to make a difference and ensure project sustainability," said Acting Director Carrie Hessler-Radelet. "The Peace Corps is leaving a strong legacy that will live on long after the Suriname post closes."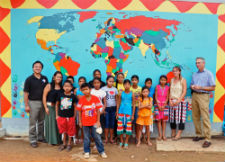 Nearly 450 health and community economic development volunteers have served in more than 100 villages, towns and cities in Suriname. In accordance with Suriname's national priorities for development, the Peace Corps program has focused on supporting underserved communities, particularly small towns and remote villages with predominantly minority populations.
In commemoration of the program, Peace Corps Suriname began a legacy project in September 2012 to document current and past volunteer projects throughout the country. The legacy project culminated with a week-long series of events that included a reception at the Ambassador's residence, a photo exhibit featuring photos taken by 17 generations of Peace Corps volunteers, the premier of a legacy film and a three-day close of service conference for the last group of 20 Peace Corps volunteers. Seven Peace Corps Response volunteers will continue to live and work in Suriname until the post officially closes.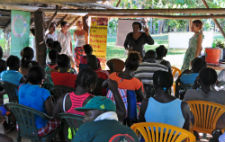 The final legacy event took place on April 5 in the capital city of Paramaribo. More than 300 government leaders, current and returned volunteers, community members and staff attended the event. Honorary speakers from Peace Corps Headquarters, the U.S. Embassy in Suriname and the Surinamese government were present and participated in the official handing over of project work to ensure sustainable development and continuation of the cultural exchange started by the Peace Corps in 1995.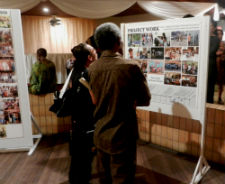 About the Peace Corps: Since President John F. Kennedy established the Peace Corps by executive order on March 1, 1961, more than 210,000 Americans have served in 139 host countries. Today, 8,073 volunteers are working with local communities in 76 host countries in agriculture, community economic development, education, environment, health and youth in development. Peace Corps volunteers must be U.S. citizens and at least 18 years of age. Peace Corps service is a 27-month commitment and the agency's mission is to promote world peace and friendship and a better understanding between Americans and people of other countries. Visit www.peacecorps.gov for more information.