FOR IMMEDIATE RELEASE:
Friday, February 22, 2013
Peace Corps to Phase Out of St. Kitts and Nevis, and Antigua and Barbuda
Washington, D.C., February 22, 2013 - Peace Corps announced it is officially phasing out of St. Kitts and Nevis, and Antigua and Barbuda after five decades of successfully meeting the island nations' need for trained men and women in education, health, agriculture, environment, youth and development, and community economic development. These two island nations, which are part of the Eastern Caribbean post, have reached a high level of development and as a result, Peace Corps officially closed the programs on January 1, 2013.
Peace Corps programs in these Eastern Caribbean nations have been extraordinarily successful by achieving development and cultural exchange goals such as empowering local youth. The programs leave a strong legacy in both countries that will be carried on in the communities served.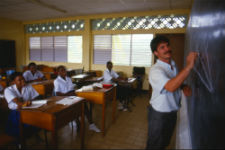 Volunteers in St. Kitts and Nevis worked in the sectors of youth development, institutional development, small business development and HIV/AIDS prevention, and as Peace Corps Response volunteers. Volunteers in Antigua and Barbuda worked in youth development and as Peace Corps Response volunteers.
On St. Kitts, the 25 Most Remarkable Teens program was introduced in 2011 by then-volunteer Connie Howard, who worked in partnership with the Ministry of Youth Empowerment. The program recognizes youth ages 12 to 19 for accomplishments in non-traditional categories such as the courage to overcome adversity, citizenship and leadership; and for creative talents such as design, the performing arts and writing. Past honorees have been recognized in Federal Parliament by the Prime Minister, Deputy Prime Minister and Federal Parliamentarians. The Ministry of Youth Empowerment will keep the program running in future years.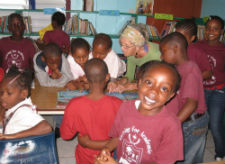 On Antigua, volunteers Jennifer Davis and Rachel Hall designed and set into motion Camp GROW (Gaining Respect for the Outdoors and Our World), a two-week summer camp fostering environmental stewardship and life skills for girls and boys between the ages of 7 and 12. Davis and Hall trained older youth to be counselors, and those youth will run the camp during the summer of 2013. Community members and organizational partners will run the camp in years to come.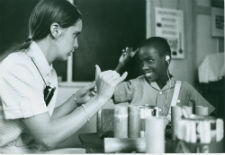 Long after the last volunteer's departure, the most essential component of these nations' cooperation with the United States will remain in the fellowship between Peace Corps volunteers and their Eastern Caribbean host families, colleagues and friends. Returned volunteers' ongoing contributions as informal citizen ambassadors for St. Kitts and Nevis, and Antigua and Barbuda will serve as a lasting legacy of mutual collaboration.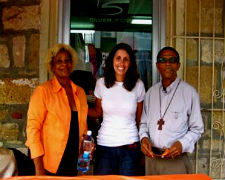 In addition to St. Kitts and Nevis, and Antigua and Barbuda the Eastern Caribbean post also has programs in Dominica, St. Lucia, Grenada, and St. Vincent and the Grenadines; those programs will continue.
About Peace Corps/Eastern Caribbean: More than 3,770 Peace Corps volunteers have served in the Eastern Caribbean since the program was established in 1961. Currently, 115 volunteers serve in the Eastern Caribbean. Volunteers work in the areas of community development, business and education. Volunteers are trained and work in the following languages: English and French Creole (Kweyol).

About the Peace Corps: Since President John F. Kennedy established the Peace Corps by executive order on March 1, 1961, more than 210,000 Americans have served in 139 host countries. Today, 8,073 volunteers are working with local communities in 76 host countries in agriculture, community economic development, education, environment, health and youth in development. Peace Corps volunteers must be U.S. citizens and at least 18 years of age. Peace Corps service is a 27-month commitment and the agency's mission is to promote world peace and friendship and a better understanding between Americans and people of other countries. Visit www.peacecorps.gov for more information.
# # #
---