FOR IMMEDIATE RELEASE:
Tuesday, May 11, 2010
Peace Corps to Open a New Program in Colombia
WASHINGTON, D.C., May 11, 2010 Colombian Minister of Foreign Affairs Jaime Bermdez and Peace Corps Director Aaron S. Williams met Tuesday morning to sign an Understanding to establish a Peace Corps program in Colombia. Colombian Ambassador to the United States Carolina Barco hosted Bermdez and Williams at the Colombian Embassy in Washington, D.C. for the signing.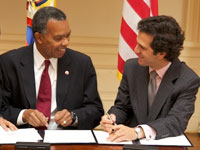 "We are honored that the government of Colombia has invited Peace Corps to establish a program in Colombia, said Williams. It has been nearly 50 years since President Kennedy established the Peace Corps, and although times have changed, our mission to promote world peace and friendship has not. This Peace Corps program will encourage Americans and Colombians to work side by side on Colombias education initiatives, with a focus on youth development in local communities.
In 2009, following the invitation from the government of Colombia, Peace Corps conducted an assessment of programming possibilities, compelling educational needs, security conditions, local initiatives, and a potential time frame for implementation.
The return of the Peace Corps to Colombia marks a sign of our deep, long-standing bonds and Colombias continued progress in delivering security to its people, said U.S. Ambassador to Colombia William Brownfield. From the time that Peace Corps volunteers stood beside Gabriel Garcia Marquez and the literary circle of The Cava in Barranquilla to today the presence of Americans teaching English to Colombians promotes a better understanding of each others cultures and the democratic values we share. Improved English skills will, in turn, better Colombians economic and educational opportunities allowing them to compete in a globalized world.
The first group of approximately 20 Peace Corps volunteers is scheduled to arrive in Colombia in the fall of 2010. The volunteers, trained in TEFL (Teaching English as a Foreign Language), will work as English teachers in primary schools, secondary schools, and teacher training institutions. Volunteers will also work together with communities on grassroots initiatives and community development along the Atlantic Coast.
Between 1961 and 1981, over 4,600 Americans served as Peace Corps volunteers in Colombia, working on projects in the sectors of nutrition, health, agriculture, small business, and education.
In addition to Colombia, over the last year, Peace Corps has established new programs in Indonesia and Sierra Leone as part of President Obamas efforts to expand service opportunities for all Americans.
As Peace Corps approaches its 50th anniversary, its service legacy continues to promote peace and friendship around the world with 7,671 volunteers serving in 76 host countries. Historically, nearly 200,000 Americans have served with the Peace Corps to promote a better understanding between Americans and the people of 139 host countries. Peace Corps volunteers must be U.S. citizens and at least 18 years of age. Peace Corps service is a 27-month commitment.
# # #
# # #
---