FOR IMMEDIATE RELEASE:
Friday, November 30, 2012
Peace Corps Swears in First Group of Volunteers in Nepal After Eight-Year Absence
WASHINGTON, D.C., November 30, 2012 – The first Peace Corps volunteers to re-enter Nepal after an eight-year absence were sworn in as agriculture and nutrition volunteers at the U.S. Embassy in Kathmandu on Nov. 30, 2012. U.S. Ambassador to Nepal Peter Bodde conducted the ceremony, which was attended by Nepali Minister of Finance Bashar Man Pun, Peace Corps Chief of Staff Stacy Rhodes, returned Peace Corps volunteers and Peace Corps staff.
Since arriving in Nepal in September, the 20 volunteers have received comprehensive cross-cultural, language and technical training through the Peace Corps. After the swearing–in ceremony, the volunteers were set to travel to their permanent Peace Corps sites where they will live and work with Nepali counterparts for the next 24 months to promote food security through agriculture, sanitation and health activities.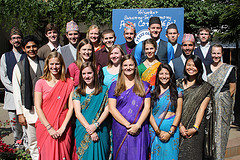 Volunteer Chad Chalker of Midland, Texas, was eager to arrive as one of the first volunteers to re-enter Nepal. "When I was invited to be a part of the first group re-entering, I was really excited. I get to help lay the foundation for the future Peace Corps program in Nepal."
Before departing for Nepal in September, volunteer Tia Sandoval of Kansas City, Mo., reflected on advice for her Peace Corps experience. "The best advice I received was to keep an open mind and be willing to jump in and try anything." After having lived in Nepal for three months, Sandoval commented on the ease of fitting into her new host culture. "The Nepali people are amazing and very welcoming. I was immediately accepted as a family member."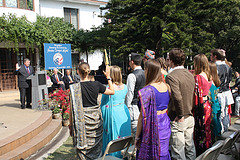 Volunteer Amanda Bensel of Monterey, Calif., received advice from a returned Peace Corps volunteer before departing for Nepal. "I was told not to be too prepared because needing things is the best way to connect to people living in other countries." Now, Bensel looks forward to connecting with people in her permanent site. "I look forward to getting to know my new community, to being a regular at the neighborhood tea shop and learning the community member's needs from their own mouths."
In January 2012, the Peace Corps announced that it would re-establish its program in Nepal after suspending it in 2004. The new program is being opened with support from the U.S. Agency for International Development (USAID). This collaborative effort is being implemented under an Inter-Agency Agreement between Peace Corps and USAID's Asia Bureau under Assistant Administrator Nisha Biswal.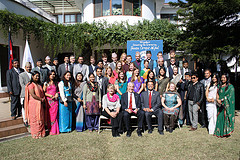 About Peace Corps/Nepal: Nearly 3,650 Peace Corps volunteers served in Nepal from 1962 until 2004. There are currently 20 volunteers working in Nepal. The first group of Peace Corps volunteers since 2004 arrived in Nepal in September 2012 to work as agriculture and nutrition volunteers. Volunteers are trained and work in the Nepali language.
About the Peace Corps: Since President John F. Kennedy established the Peace Corps by executive order on March 1, 1961, more than 210,000 Americans have served in 139 host countries. Today, 8,073 volunteers are working with local communities in 76 host countries in agriculture, community economic development, education, environment, health and youth in development. Peace Corps volunteers must be U.S. citizens and at least 18 years of age. Peace Corps service is a 27-month commitment and the agency's mission is to promote world peace and friendship and a better understanding between Americans and people of other countries. Visit www.peacecorps.gov for more information.
# # #
---