FOR IMMEDIATE RELEASE:
Thursday, August 1, 2013
Peace Corps Strengthens Collaboration with Johns Hopkins University to Improve Public Health Abroad
WASHINGTON, D.C., August 1, 2013 – Today Peace Corps announced the signing of a global Memorandum of Understanding (MOU) with Johns Hopkins University on behalf of its Bloomberg School of Public Health to strengthen collaboration and increase opportunities for Peace Corps volunteers in public health. Volunteers serving in 22 countries can now work directly on projects implemented by the Bloomberg School's Center for Communication Programs (JHU-CCP), a center that works with organizations worldwide to tackle healthcare issues like HIV/AIDS, malaria, reproductive health, and water and hygiene.
"This collaboration gives Peace Corps volunteers the chance to work on impactful public health projects with a recognized leader in health communications," Peace Corps Acting Director Carrie Hessler-Radelet said. "Peace Corps has already seen great benefits from working with JHU-CCP, and we're excited to continue expanding our collaborations to affect lasting change in the countries we serve."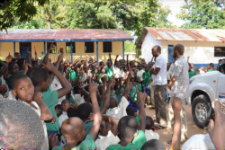 With extensive field operations throughout Africa, Asia, and Central and South America, JHU-CCP designs and implements strategic communication programs that influence political dialogue, collective action, and individual behavior. The Center currently has active programs in more than 30 countries worldwide, and since 1988, its programs have reached more than one billion people.
"The Bloomberg School and the Peace Corps have a strong relationship, which dates back many years and includes programs like our Peace Corps Master's International Program," said Dr. Michael J. Klag, Dean of the Johns Hopkins Bloomberg School of Public Health. "This agreement is an opportunity to strengthen our ties to address many of the public health problems facing our world."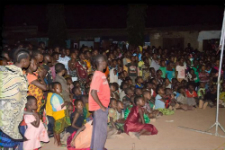 Peace Corps volunteers have been working on select JHU-CCP programs for many years to implement important grassroots projects. Tanzania volunteer Kory Funk recently worked with JHU-CCP's COMMIT Program to design and implement a month-long anti-malaria campaign. Through COMMIT, he was able to bring a mobile video unit to the market in his village to extend the reach of his campaign. Volunteers have also participated in JHU-CCP programs like Networks in Senegal, Stop Malaria in Uganda, and Ghana Behavior Change Support. The newly signed MOU improves and builds on this strong foundation to further integrate Peace Corps and JHU-CCP efforts.
Today, 21 percent of Peace Corps volunteers work in the health sector. Peace Corps health volunteers work with local communities to help meet their basic public health needs – like access to safe drinking water, and preventative health measures for malaria, malnutrition and HIV/AIDS.
About the Peace Corps: Since President John F. Kennedy established the Peace Corps by executive order on March 1, 1961, more than 210,000 Americans have served in 139 host countries. Today, 8,073 volunteers are working with local communities in 76 host countries in agriculture, community economic development, education, environment, health and youth in development. Peace Corps volunteers must be U.S. citizens and at least 18 years of age. Peace Corps service is a 27-month commitment and the agency's mission is to promote world peace and friendship and a better understanding between Americans and people of other countries. Visit www.peacecorps.gov for more information.
About the Johns Hopkins Bloomberg School of Public Health: As a leading international authority on public health, the Johns Hopkins Bloomberg School of Public Health is dedicated to protecting health and saving lives. Every day, the Bloomberg School works to keep millions safe from illness and injury by pioneering new research, deploying its knowledge and expertise in the field, and educating tomorrow's scientists and practitioners in the global defense of human life. Founded in 1916 as part of the Johns Hopkins University, the Bloomberg School of Public Health is the world's oldest and largest independent school of public health. More information: http://www.jhsph.edu.
# # #
---