FOR IMMEDIATE RELEASE:
Wednesday, November 18, 2020
Peace Corps staff member works to improve support of Deaf Volunteers
Allen Neece was hired to advise the Office of the Director on how best to improve the recruitment and placement of Deaf or hard of hearing (DHH) Peace Corps Volunteers. His duties include expanding the inclusion of people with disabilities in project-planning at various Peace Corps posts around the world.
Allen has worked at headquarters since 2015, but his experience with the Peace Corps started long before that.
After seven years teaching English to Deaf adult immigrants and high school students in Los Angeles, Allen applied to the Peace Corps and was assigned a Deaf education position in Kenya. Just weeks after completing his in-country training, he was evacuated due to post-electoral instability and reassigned to Zambia for 10 months. When Kenya reopened, Allen returned and began a Peace Corps journey that would last for years to come.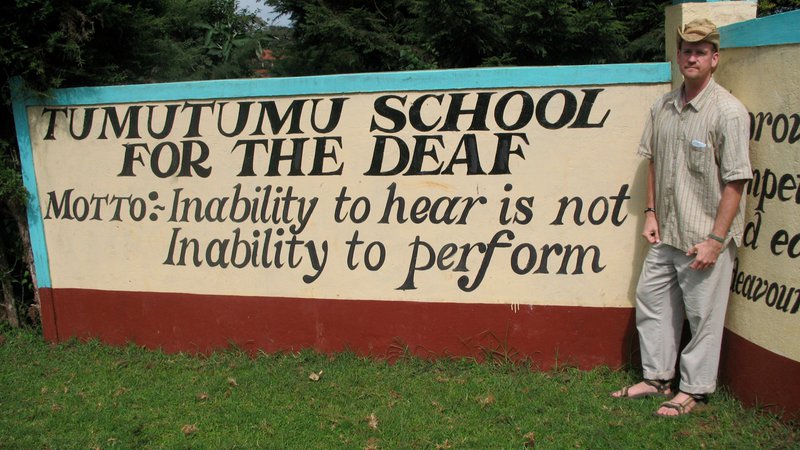 What made you want to return to your original post after you were evacuated?
At the time, Kenya was the only Peace Corps post that had a Deaf education project. With my background as a teacher, it made sense for me to return. Whenever a post shuts down, so much knowledge is lost and the staff often have to rebuild from scratch. The Peace Corps Kenya staff specifically invited me to return as they reopened because they knew I could contribute to rebuilding the project. It was exciting to be able to share my knowledge and expertise as a teacher, as well as a recent Trainee familiar with the Kenya context.
Describe your work as a Volunteer in Kenya and Zambia.
I was originally placed in western Kenya in the town of Kakamega, but I was there only a few weeks before I was evacuated. I then transferred to Zambia, where I worked in a capacity-building role with the Zambia National Association of the Deaf (ZNAD) in Lusaka.
I was exceedingly grateful to the Zambia post for inviting me and several other transfers, because I certainly didn't want to return home. I worked alongside ZNAD in developing advocacy strategies to meet the socioeconomic needs of Deaf communities in Zambia. One major accomplishment was securing funding for a Zambian Sign Language poster as a medium for teaching signs pertaining to health and reproduction. This was modeled on a similar poster previously developed with funds from PEPFAR ( The President's Emergency Plan For AIDS Relief ) in Kenya.
When I returned to Kenya, I was placed in the TumuTumu School for the Deaf in central Kenya. TumuTumu is a residential primary grade school for the Deaf perched on a hill named TumuTumu. Surrounded by farms that cultivated crops on ridiculously fertile soil (a gift from the legacy of Mount Kenya, which looms in the distance), TumuTumu was known for being a hideout for Mau Mau freedom fighters during the days of the war for independence.
I taught English to students in grades three and four, and geography to eighth graders. I had many secondary projects, ranging from cleaning up and opening the school library, to securing dictionaries for the Standard 8 students, to finding funds to pay tuition fees for the students continuing on to secondary school.
I also participated in planning, designing, and implementing sessions for incoming Deaf education trainees at Peace Corps' pre- and in-service trainings, a task which helped the post regain its footing after resuming operations.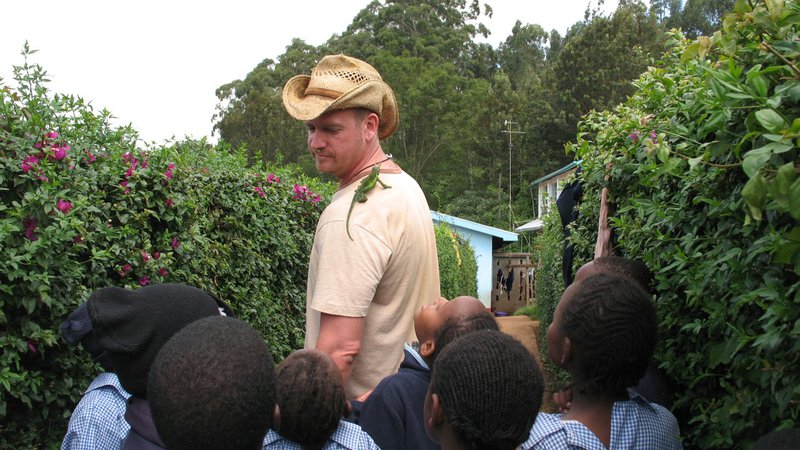 What were some challenges you faced as a Deaf/Hard of Hearing (DHH) Volunteer?
I didn't encounter many challenges different than then ones that faced hearing Volunteers. The only real exception was having to navigate the attitudes some people in Kenya and Zambia have towards individuals with disabilities, especially Deaf people.
These attitudinal barriers were reflected in many schools for the Deaf. I responded by positioning myself as a role model, demonstrating ideals and values by virtue of my life experience. I hoped I could plant seeds of confidence and pride in the youth I taught and the colleagues I worked with.
After you completed your service in Kenya, you became a Peace Corps Response Volunteer in Guyana. Why did you make that choice?
I really didn't want to return to the United States, and I enjoyed living, working, and traveling overseas. The opportunity for Guyana happened at exactly the right time. I finished my service in Kenya in December of 2010, and started the very next month in Guyana.
I was particularly excited because the position gave me the opportunity to work at a government ministry level, something I wish I could've done in Kenya. Personally, I think the Peace Corps should offer more opportunities for highly experienced Volunteers to work at the ministry level. Many education ministries across the world are very top down, meaning that the best location to effect reforms is within those bureaus.
Describe your work in Guyana.
I worked with the ministry to modify the national curriculum to eliminate bias against Deaf language learners and ensure they were taught in Guyana Sign Language as their primary modality of communication and instruction. I provided in-service training to teachers of the Deaf and visited some remote locations to provide sensitization classes and assess students there.
As a DHH Volunteer, what special skills or perspective did you bring to your Peace Corps services?
In many cultures, disability or deafness is viewed as moral failing on the part of the parents—a sign that they were being punished by God for their sins or that witchcraft was involved. I observed that some people had internalized disability as perhaps unique to Africa or to their ethnic group.
In my work and travels across the world, I encountered many people who were shocked or amazed that someone like me—a 6-foot-4, 240 pound, white, American male—could not only be Deaf, but also be a Deaf person in a position of influence.
When I appeared in my role as a Volunteer to teach and work along folks in a professional capacity, there was genuine surprise and appreciation. Some people took it well, some did not. I think my presence entailed a paradigm shift in how they viewed people, especially Deaf people, as members of society. I would say the vast majority of people accepted what I had to share, but I did encounter some resistance when people had to reevaluate and adjust their attitudes and views towards people with disabilities. Change isn't easy for some people, but that's why I was there: to learn from the people I met, offer them an opportunity to view the world through a different lens, and represent the diversity of the American people.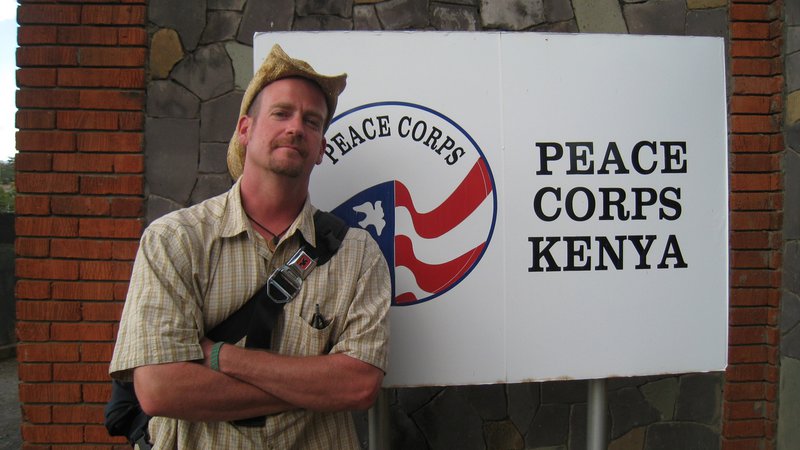 What did you do after finishing your Response service?
I finished my service in Guyana in November of 2011. In January of 2012, I started a two-year stint as a Volunteer with Voluntary Services Overseas (VSO) in Kigali, Rwanda. I worked for two years as a capacity adviser with the Rwanda National Union of the Deaf (RNUD).
In this role, I wore many hats: I worked alongside the RNUD to secure official approval as a government-sanctioned NGO. We received $25,000 in funding from the Disability Rights Action Fund and also secured a $5,000 grant from UNAIDS (The Joint United Nations Programme on HIV/AIDS) to develop sign language material for HIV/AIDS awareness. I wrote a position paper for RNUD and attended many seminars and workshops with RNUD staff.
My proudest accomplishment was managing the development of a Rwandan Sign Language dictionary and accompanying DVD curriculum for a pilot-inclusive education project. That pilot was implemented in two schools where Deaf students were learned in same classrooms as hearing students.
You now work as a Program Specialist at the Peace Corps. What are your main duties in your position?
I was hired as an expert consultant and placed in the Office of the Director as an advisor on how to improve the recruitment and placement of DHH Trainees/Volunteers. I also work to expand the inclusion of people with disabilities in project planning at various Peace Corps posts.
How does your experience serving as a DHH Volunteer in Kenya, Zambia, and Guyana help you support DHH Volunteers in your current position?
I lived and worked for nearly seven years as a Deaf Volunteer and educator for both Peace Corps and VSO in four countries, so I bring considerable knowledge and life experience to my position.
What do you think the Peace Corps can do to better support our DHH Volunteers?
I would say the biggest barrier facing the inclusion of DHH Volunteers is an attitudinal barrier. With staff turnover at our agency, there is a certain lack of institutional knowledge. I still encounter agency staff who are surprised at the long legacy of DHH Americans serving as Volunteers, but more than 75 DHH Volunteers have served since 1969.
If I were to speak for DHH people worldwide, I would say that many of us don't consider ourselves as having a disability at all. We reject the medical perspective that is focused on "fixing the hearing loss." We instead counter that we have "Deaf gain," and view ourselves from a cultural-linguistic minority perspective. Equitable access to language, particularly sign language, is the primary challenge we face.
In my role, I've strived to frame Deafness from a perspective of language, not disability. Not every DHH Trainee or Volunteer may have a need for sign language, and it's important to stress there is a wide variety of intersectionalities within the spectrum of Deafhood. However, the majority of DHH Volunteers who serve do use sign language as their primary mode of communication. Recently, Kenya and Ghana posts have had Deaf education projects where sign language interpreters are provided to facilitate language needs at Peace Corps trainings, which is a big step forward.
# # #
About the Peace Corps: The Peace Corps sends Americans with a passion for service abroad on behalf of the United States to work with communities and create lasting change. Volunteers develop sustainable solutions to address challenges in education, health, community economic development, agriculture, the environment and youth development. Through their Peace Corps experience, volunteers gain a unique cultural understanding and a lifelong commitment to service that positions them to succeed in today's global economy. Since President John F. Kennedy established the Peace Corps in 1961, more than 240,000 Americans of all ages have served in 142 countries worldwide. For more information, visit peacecorps.gov and follow us on Facebook, Instagram and Twitter.
---