FOR IMMEDIATE RELEASE:
Wednesday, July 18, 2018
Peace Corps salutes Special Olympics on its 50th anniversary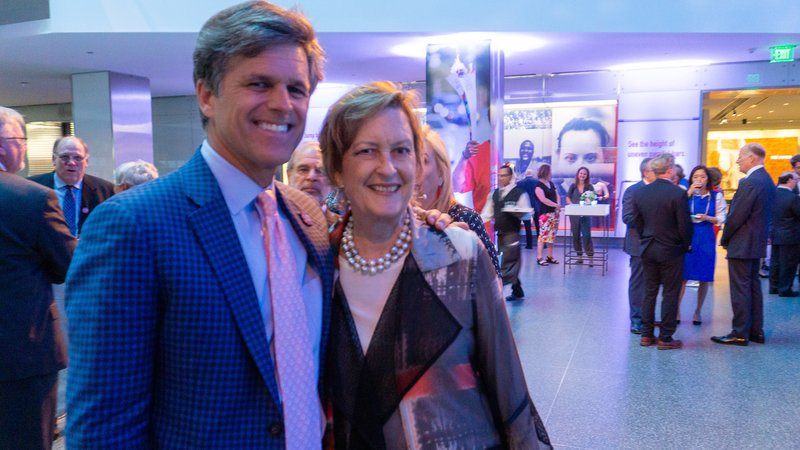 WASHINGTON – Peace Corps is celebrating the 50th anniversary of Special Olympics, which partners with volunteers around the world to transform lives through the joy of sports and create a culture of inclusion.
Members of the Peace Corps community will be in Chicago this week for games and events commemorating this milestone. Athletes and their families, friends, and coaches will also pay tribute to Special Olympics founder Eunice Kennedy Shriver, wife of the first Peace Corps Director Sargent Shriver.
Peace Corps Director Jody Olsen, who is pictured above with Special Olympics Chairman Timothy Shriver at the new Special Olympics exhibit at the Smithsonian National Museum of American History, stated, "As we all know, the Shriver family played a vital role in the creation of Peace Corps, making our strategic partnership with Special Olympics even more meaningful. Peace Corps is proud to support the work of Special Olympics and all they do to create an inclusive, just world for all people. Please join me in wishing our special partner a happy 50th anniversary."
More than 1,200 Peace Corps volunteers are working with people with disabilities in 44 countries. Volunteers in Mongolia, the Philippines, Paraguay, and Senegal work directly with Special Olympics to lead sporting events, youth camps, adult training sessions, and health programming.
Daniel Ryave, a Peace Corps volunteer in Togo, wrote about his work with Special Olympics in this story.
# # #
About the Peace Corps: The Peace Corps sends Americans with a passion for service abroad on behalf of the United States to work with communities and create lasting change. Volunteers develop sustainable solutions to address challenges in education, health, community economic development, agriculture, environment and youth development. Through their Peace Corps experience, volunteers gain a unique cultural understanding and a life-long commitment to service that positions them to succeed in today's global economy. Since President John F. Kennedy established the Peace Corps in 1961, more than 230,000 Americans of all ages have served in 141 countries worldwide.
For more information, visit peacecorps.gov and follow us on Facebook and Twitter.
---