FOR IMMEDIATE RELEASE:
Tuesday, January 10, 2012
Peace Corps Returns to Nepal
Peace Corps and U.S. Agency for International Development sign inter-agency agreement
WASHINGTON, D.C., January 10, 2012 Peace Corps Director Aaron S. Williams and U.S. Agency for International Development (USAID) Assistant Administrator for Asia Nisha Biswal signed an inter-agency agreement to re-establish a Peace Corps program in Nepal after a seven-year absence from the country. The agreement was signed at a ceremony at Peace Corps headquarters in Washington, D.C., and attended by Nepali Ambassador to the United States Shankar Prasad Sharma, Assistant Secretary of State for South and Central Asian Affairs, Robert O. Blake, Jr., and returned Peace Corps volunteers from Nepal.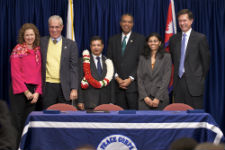 "We are pleased that the government of Nepal has invited Peace Corps volunteers to return and work with local Nepali communities, in collaboration with USAID, once again, said Peace Corps Director Aaron S. Williams. The partnership between Peace Corps and Nepal originated in 1962, during Peace Corps early years, and it is an honor and a privilege for us to have the opportunity to renew our work with Nepal.
USAID congratulates the Peace Corps on its return to Nepal and is excited to partner with the Peace Corp and the Government of Nepal in supporting our shared objectives of improving food security and access to healthcare for the Nepalese people. USAID and the Peace Corps just commemorated 50 years of our common legacy, as organizations established by President Kennedy to reflect the best of American Values. It is fitting that we are once again partnering in Nepal, where both agencies have a long and significant history, said USAID Assistant Administrator for Asia Nisha Biswal.
The first group of approximately 20 Peace Corps volunteers is scheduled to arrive in Nepal later this year. The volunteers, will be trained as Agriculture-Nutrition Extensionists, and will work with rural communities to build local capacity in Global Health Initiative and the Feed the Future priority areas.
Since 1962, over 4,000 Americans have served as Peace Corps Volunteers in Nepal, working on projects in the sectors of education, environment and natural resource conservation, health, and community and youth development.
About the Peace Corps:
Since President John F. Kennedy established the Peace Corps by executive order on March 1, 1961, more than 200,000 Americans have served in 139 host countries. Today, 9,095 volunteers are working with local communities in 75 host countries. Peace Corps volunteers must be U.S. citizens and at least 18 years of age. Peace Corps service is a 27-month commitment and the agencys mission is to promote world peace and friendship and a better understanding between Americans and people of other countries. Visit www.peacecorps.gov for more information.
# # #
---