FOR IMMEDIATE RELEASE:
Wednesday, July 3, 2019
Peace Corps Response Volunteer revamps 350 health clinics in South Africa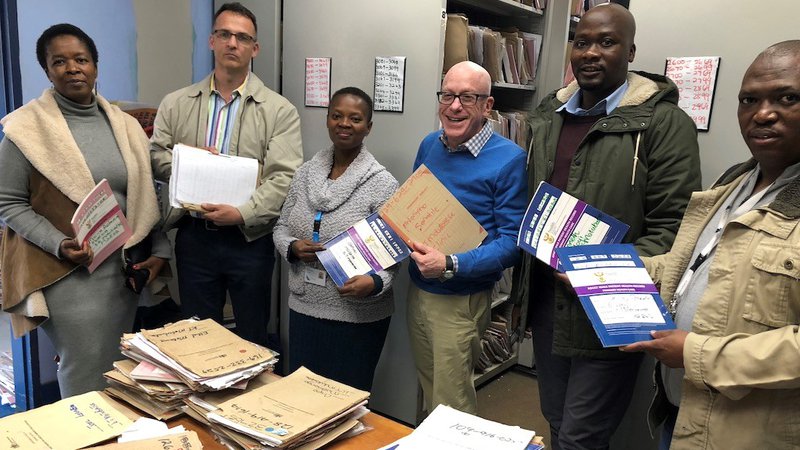 DAVIS, CA – Brian Sway, a Davis resident and Peace Corps Response Volunteer, has used a lifetime of professional experience to improve 350 medical clinics and the National Department of Health in South Africa.
Drawing on his background in business process reengineering, Sway overhauled a Pretoria clinic's records management systems, streamlining file and patient flows. He helped write a scope of work and trained personnel on the new Standard Operating Procedure (SOP). The results were so dramatic that the SOP was shared with approximately 350 clinics across South Africa, as well as the National Department of Health.
"I'm making use of all the skills I've developed over my personal and professional life," said Sway. "Moreover, I like to think I'm making a contribution, in some small way, getting to meet and work with wonderful people, and I can't wait to go to my Peace Corps Response job every day. It's a great feeling. Life away from home isn't all easy, but it certainly is fulfilling."
The U.S. Department of State recognized Sway's contributions with a Franklin Award, which recognizes individuals, foundations, associations and corporations that actively contribute to advancing America's ideals around the globe through public diplomacy.
Before Sway revamped the clinics' filing system, staff had to search for over three hours to find a single patient file. This delay, in turn, created long patient wait times at many of the health clinics engaged in the fight to defeat HIV. Clinical staff were forced to manage irritated patient crowds rather than dispense treatment. In locations that have received support, files for individual patients can now be retrieved in less than five minutes. Patient wait times have been significantly reduced, leading to better patient flow and more satisfied clients.
Sway has lived in Davis since 1970. He graduated from the University of California, Davis in 1974 with an undergraduate degree in Economics. He worked at a number of companies in the Sacramento area and currently serves as a Solutions Architect for CGI. His late wife, Susanne Rockwell, earned two degrees from UC Davis: a bachelors in international relations (1974) and a masters in rhetoric and communication. She worked in UC Davis communications for 30 years. Sway has two children; his daughter, Julia Rockwell Sway, graduated from UC Davis in 2007.
# # #
About Peace Corps Response: Peace Corps Response sends experienced professionals on short-term, targeted service assignments around the world for 12 months or less. The positions are highly specialized and technical and Volunteers provide targeted assistance in areas such as agriculture, community economic development, disaster risk reduction and mitigation, education, environment, health, and youth in development. Since Peace Corps Response began in 1996, more than 3,000 Americans have served in over 80 countries around the world. For more information, go to www.peacecorps.gov/response and follow us on Facebook.
About the Peace Corps: The Peace Corps sends Americans with a passion for service abroad on behalf of the United States to work with communities and create lasting change. Since President John F. Kennedy established the Peace Corps in 1961, more than 235,000 Americans of all ages have served in 141 countries worldwide. For more information, visit peacecorps.gov and follow us on Facebook, Instagram, and Twitter.
---