FOR IMMEDIATE RELEASE:
Friday, May 14, 2010
Peace Corps Recognizes AmeriCorps Week
AmeriCorps Week is May 8-15 2010
WASHINGTON, D.C., May 14, 2010 Peace Corps joins its partner AmeriCorps member organizations in recognizing AmeriCorps Week. AmeriCorps Week is a recruitment and recognition event designed to bring more Americans into service, salute AmeriCorps members and alumni for their powerful impact, and thank the community partners who make AmeriCorps possible.
"I am proud of Peace Corps relationship with AmeriCorps and the valuable work we achieve together, said Peace Corps Director Aaron S. Williams. Often, many of the skills Peace Corps volunteers utilize overseas are traced to their prior experience with an AmeriCorps organization. Additionally, Returned Peace Corps volunteers frequently work with AmeriCorps when they return to the U.S. AmeriCorps is a wonderful opportunity for our volunteers to continue working in the field of public service.
Peace Corps and AmeriCorps offer Americans unique leadership opportunities in community development. This year, Peace Corps has partnered with three AmeriCorps organizations: City Year, The Corps Network, and The National Association of Community Health Centers (NACHC). These AmeriCorps organizations are working with Peace Corps to increase the number of volunteer opportunities for Americans both at home and overseas.
The following volunteers are examples of Peace Corps and AmeriCorps partnership:
Returned Peace Corps Volunteer Jammie Kingham was an AmeriCorps member with EarthCorps before serving in the Philippines as a Peace Corps environment sector volunteer. When she returned from the Philippines, Kingham was hired by EarthCorps and is now a senior project manager in Seattle, Wash.
My two years as an AmeriCorps member sparked my desire and passion to join the Peace Corps and extend my volunteer service overseas in the Philippines, said Kingham. The skills I gained as an AmeriCorps member enhanced my ability to access and identify environmental and community needs and to work effectively with Filipinos in developing community restoration projects.
Elmer Weaver of Northfield, Minn., is currently a Peace Corps youth development volunteer in Azerbaijan. The AmeriCorps National Civilian Community Corps (AmeriCorps*NCCC) helped prepare him for Peace Corps. My experience working with other team members and delegating and sharing responsibility among the team in AmeriCorps actually matches very closely with what I try to do with my work in the Peace Corps, said Weaver. Click
here
to see a video of Weaver in Azerbaijan.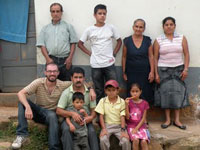 "Returned Peace Corps Volunteer Lucas Reynolds of Wooster, Ohio, initially served as an AmeriCorps*VISTA volunteer. He applied many of his AmeriCorps experiences to his service as a municipal development volunteer with Peace Corps in Guatemala. My community outreach work as an AmeriCorps*VISTA volunteer gave me the firsthand work experience in community development that I later used working with local community groups during my Peace Corps service in Guatemala, said Reynolds.
Anna McLuen wanted to continue serving after she completed her time with Peace Corps as a health and nutrition volunteer in the Dominican Republic. McLuen currently works as a Community HealthCorps member.
After I returned from the Peace Corps, I felt a great sense of loss leaving my community. I wanted to keep serving but didnt know how, she said. AmeriCorps through Community HealthCorps helped me apply my Peace Corps experience to populations within the United States. This opportunity has broadened my world view and helped me focus my passions in order to serve my own community.
About AmeriCorps:
Launched in 1994, AmeriCorps programs provide opportunities for Americans to make an intensive commitment to service domestically. Each year, AmeriCorps offers 75,000 opportunities for adults of all ages and backgrounds to serve through a network of partnerships with local and national nonprofit groups.As Peace Corps approaches its 50th anniversary, its service legacy continues to promote peace and friendship around the world with 7,671 volunteers serving in 77 host countries. Historically, nearly 200,000 Americans have served with the Peace Corps to promote a better understanding between Americans and the people of 139 host countries. Peace Corps Volunteers must be U.S. citizens and at least 18 years of age. Peace Corps service is a 27-month commitment.
# # #
# # #
---