FOR IMMEDIATE RELEASE:
Thursday, March 25, 2010
Peace Corps Receives TESOL Presidents Award
WASHINGTON, D.C., March 25, 2010 Teachers of English to Speakers of Other Languages, Inc. (TESOL), a global education association, awarded the Peace Corps its 2010 Presidents Award yesterday.
The award is presented annually to an individual or organization that has made important contributions in support of TESOLs mission to develop and maintain professional expertise in English language teaching and learning for speakers of other languages worldwide.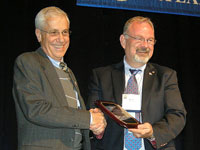 Since 1961, the Peace Corps has adapted and responded to the issues of the times and the service requests of our host countries, said Peace Corps Director Aaron S. Williams. Today, many people see the English language as a tool to access the world and help improve their lives. This has made TESOL one of the most recognized and appreciated sectors of Peace Corps service. We are honored to be recognized by TESOLs 2010 Presidents Award.
Peace Corps TESOL volunteers introduce innovative teaching methodologies in their host communities, encourage critical thinking in the classroom and integrate conversational English, English for academic purposes, and English for international communication in their lesson plans. Volunteers use creative ways to engage youth and adults in English learning activities, organizing clubs and camps to promote literacy and English language fluency. Many TESOL educators in the United States first taught English while serving with the Peace Corps and have utilized that experience to launch their academic careers.
Currently, over 1,200 Peace Corps volunteers are teaching the English language as their primary service project in 25 countries and thousands more are teaching English as part of secondary service projects. Peace Corps largest TESOL program is in Ukraine, with over 130 TESOL volunteers.
Incorporated in 1966, TESOL is a global association for English language teaching professionals and encompasses a network of over 55,000 educators.
As Peace Corps approaches its 50th anniversary, its service legacy continues to promote peace and friendship around the world with 7,671 volunteers serving in 76 host countries. Historically, nearly 200,000 Americans have served with the Peace Corps to promote a better understanding between Americans and the people of 139 host countries. Peace Corps volunteers must be U.S. citizens and at least 18 years of age. Peace Corps service is a 27-month commitment.
# # #
# # #
---