FOR IMMEDIATE RELEASE:
Tuesday, May 3, 2011
Peace Corps Partners with Save the Children
Collaboration Provides More Resources and Opportunities for Volunteers
Washington, D.C., May 3, 2011—The Peace Corps and Save the Children announce a Memorandum of Understanding (MOU) to expand resources for HIV/AIDS, nutrition, education, and other programming for Peace Corps volunteers. The MOU will also provide Peace Corps volunteers and staff with additional technical assistance and training from Save the Children global field staff.
Peace Corps volunteers work in thousands of communities worldwide to improve the lives of families and children. This partnership increases the capacity of both organizations at a grassroots level and puts us in a better position to create sustainable solutions for local communities, said Peace Corps Director Aaron S. Williams, who signed the MOU with Save the Children CEO and President Charles MacCormack at a signing ceremony at Peace Corps headquarters in Washington, D.C.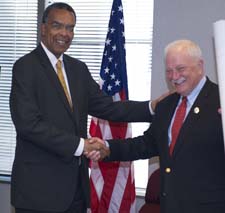 Save the Children and the Peace Corps have had a long and successful relationship, said MacCormack. More than 70 of our staff members were Peace Corps volunteers, and the collaboration with Peace Corps in the field has been mutually beneficial through the years. We look forward to continuing and increasing this partnership that has been vital to our successful work with children and families.
The MOU builds on 24 successful country-specific collaborations that already exist between Peace Corps and Save the Children. Also through the partnership, Peace Corps and Save the Children will enhance career opportunities with Save the Children for returned Peace Corps volunteers who want to continue work in international development.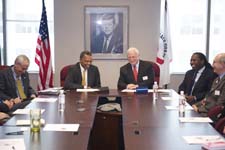 Examples of Existing Work:
In Ethiopia, Peace Corps volunteers work with Save the Children to conduct a nutritional baseline survey and participate in the yearly EVERY ONE half marathon race to raise funds and awareness for maternal and child health.
In Guatemala, Save the Children donated gardening and farm animal care supplies to Peace Corps volunteer projects.
In Vanuatu, volunteers work with Save the Children to provide better health care and health education to rural communities. Volunteers work to strengthen village health workers through one-on-one mentoring and community health promotion.
About Save the Children:
Save the Children is the worlds leading independent organization for children. Their vision is a world in which every child attains the right to survival, protection, development and participation. Their mission is to inspire breakthroughs in the way the world treats children, and to achieve immediate and lasting change in their lives. Save the Children serves impoverished, marginalized and vulnerable children and families in over 120 nations. Their programs reach both children and those working to save and improve their lives, including parents, caregivers, community members, and members of their partner organizations. They help save childrens lives, protect them from exploitation, and help them access education and health care. Through disaster risk reduction, emergency preparedness, rapid humanitarian relief, and long-term recovery programs, Save the Children also annually assists millions of girls and boys at risk of or affected by natural disasters, conflicts, and ethnic violence. Visit
www.savethechildren.org
for more information.
About the Peace Corps:
President John F. Kennedy established the Peace Corps on March 1, 1961, by executive order. Throughout 2011, Peace Corps is commemorating 50 years of promoting peace and friendship around the world. Historically, more than 200,000 Americans have served with the Peace Corps to promote a better understanding between Americans and the people of 139 host countries. Today, 8,655 volunteers are working with local communities in 77 host countries. Peace Corps volunteers must be U.S. citizens and at least 18 years of age. Peace Corps service is a 27-month commitment. Visit www.peacecorps.gov for more information.
# # #
---