FOR IMMEDIATE RELEASE:
Thursday, September 23, 2010
Peace Corps Partners with CHF International
WASHINGTON, D.C., Sept. 23, 2010 The Peace Corps and CHF International have partnered to collaborate in the placement, training, and support of Peace Corps volunteers in CHF-managed, community-based development projects by signing a Memorandum of Understanding (MOU).
CHF and Peace Corps are dedicated to a common goal—working with local communities on building capacity and creating sustainable solutions, said Director Aaron S. Williams (Dominican Republic, 1967-1970). This partnership will foster increased collaboration to expand the reach and quality of our programs.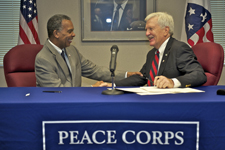 CHF works with local communities in 15 of Peace Corps 77 host countries and focuses on economic development, micro and middle market finance, global health, housing and infrastructure, urban development, governance and civil society, and emergency response and recovery. The agreement between the two organizations creates a system for Peace Corps country directors to establish working relationships with CHF staff on the ground and allows Peace Corps volunteers to receive training and support from CHF experts.
"For me, this partnership is particularly significant, said Michael E. Doyle (Colombia, 1962-1964), President and CEO of CHF International, because it will officially designate a relationship between CHF and the Peace Corps exactly like the one that launched my career, where an NGO trains and supports Peace Corps volunteers in the field in close collaboration with the Peace Corps. Through this partnership, together we will help to develop the new generation of those committed to community-based development and improving the lives of millions of people around the world.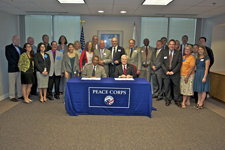 The Peace Corps and CHF developed the MOU based on an existing successful collaboration. In Rwanda, CHF, funded by USAID and the Presidents Emergency Plan for AIDS Relief (PEPFAR) has been working together with the Peace Corps since 2008 to increase the capacity of local health and educational institutions to provide services to vulnerable populations such as orphans, child-headed households and people living with HIV and AIDS. This coalition has worked to successfully promote health awareness, improve food security and increase access to key community services such as education and psychosocial support for hundreds of thousands of Rwandans.
CHF International is an international development organization founded in 1952 that works in developing and conflict-affected countries. We partner with communities around the world to help them to direct the improvement of their lives and livelihoods. We believe that the people best suited to decide what a community needs are the people of the community itself. CHF is a politically neutral, non-profit 501(c)(3) organization. For more information on CHF, visit:
www.chfinternational.org
.
As Peace Corps approaches its 50th anniversary, its service legacy continues to promote peace and friendship around the world with 7,671 volunteers serving in 77 host countries. Historically, nearly 200,000 Americans have served with the Peace Corps to promote a better understanding between Americans and the people of 139 host countries. Peace Corps volunteers must be U.S. citizens and at least 18 years of age. Peace Corps service is a 27-month commitment.
# # #
---