FOR IMMEDIATE RELEASE:
Wednesday, April 4, 2012
Peace Corps Partners with Alpha Kappa Alpha Sorority to Increase Service Opportunities for More Americans
WASHINGTON, D.C., April 4, 2012 The Peace Corps and Alpha Kappa Alpha Sorority Incorporated (AKA) signed a memorandum of understanding at Peace Corps Headquarters in Washington, D.C. to increase the number of service opportunities for more Americans. The agreement was signed between Peace Corps Deputy Director Carrie Hessler-Radelet (Returned Peace Corps volunteer, Western Samoa, 1981-1983) and AKAs International President Carolyn House Stewart.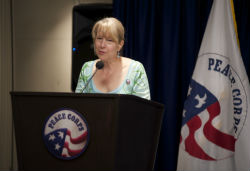 Peace Corps is thrilled to partner with AKA to promote service and leadership within the United States and around the world, said Deputy Director Hessler-Radelet. AKA members have demonstrated a commitment to public service and a dedication to working with underserved communities. We hope that many AKA members will consider continuing their good work through Peace Corps service in the future.
This memorandum of understanding is consistent with Alpha Kappa Alpha\'s 104 year record of promoting volunteerism and peace, said International President Stewart.
Under the new partnership, Peace Corps will work with Alpha Kappa Alpha to improve awareness of the Peace Corps and its mission among AKAs members, staff, and alumnae. Each year, thousands of diverse college educated female leaders join AKA, which requires that its members have demonstrated leadership skills and a dedication to community service. AKA prides itself on supporting underserved communities worldwide and mentoring youth to become leaders.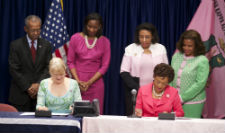 AKA provided me the opportunity to work with sorority members to create a program that provided opportunities for professional women to share their lives, talents and careers with at-risk teen girls as mentors, said LaVera Butler, a returned Peace Corps volunteer (Uganda, 2008-2010) and AKA member. When I joined the Peace Corps, serving as an NGO Advisor, I found that I was able to make use of what I learned from designing the AKA mentoring program in my work with my host organization.
Peace Corps nine regional recruiting offices across the United States work to recruit and provide information and guidance to prospective Peace Corps volunteers. Potential applicants can connect with a local recruiter and locate their local regional recruiting office by visiting the Peace Corps website
here
.
About Alpha Kappa Alpha Sorority:
Alpha Kappa Alpha Sorority, Incorporated (AKA) is an international service organization that was founded on the campus of Howard University in Washington, D.C. in 1908. It is the oldest Greek-lettered organization established by African-American college-educated women. It is comprised of 260,000 members in 966 graduate and undergraduate chapters in the United States, the U. S. Virgin Islands, Bermuda, the Caribbean, Canada, Japan, Germany, South Korea and on the continent of Africa. Its membership includes distinguished women who boast excellent academic records, proven leadership skills, and are involved in the global community through advocacy and service. Alpha Kappa Alpha has dedicated itself to improving the quality of life for citizens worldwide and promoting peace. The organization is led by its 28th International President Carolyn House Stewart of Tampa, Florida whose administration\'s programmatic theme is Global Leadership Through Timeless Service. For more information, log on to www.aka1908.com.
About the Peace Corps:
Since President John F. Kennedy established the Peace Corps by executive order on March 1, 1961, more than 200,000 Americans have served in 139 host countries. Today, 9,095 volunteers are working with local communities in 75 host countries. Peace Corps volunteers must be U.S. citizens and at least 18 years of age. Peace Corps service is a 27-month commitment and the agencys mission is to promote world peace and friendship and a better understanding between Americans and people of other countries. Visit www.peacecorps.gov for more information.
# # #
---