FOR IMMEDIATE RELEASE:
Wednesday, September 20, 2006
Peace Corps Night at RFK a Success
Returned Peace Corps Volunteer Chris Matthews Threw First Pitch

Washington, D.C. September 20, 2006 Peace Corps and the Washington Nationals hosted Peace Corps Night at RFK Stadium last night. Among the approximately 20,596 people who watched the Washington Nationals beat the Atlanta Braves (9-2), the Peace Corps cheering section included some 450 returned Peace Corps Volunteers or agency staff.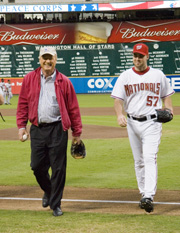 Returned Volunteer and MSNBC Hardball host Chris Matthews threw out the first pitch during Peace Corps night at the Washington Nationals game.
The festivities began when Chris Matthews, a returned Peace Corps Volunteer and host of MSNBCs
Hardball
, threw the ceremonial first pitch. Matthews, who served in Swaziland, 1968-70, says his Peace Corps experience changed his life forever.
Before the players took the field, returned Peace Corps Volunteers and agency staffdressed in traditional garb from their host country or Peace Corps new 45th anniversary T-shirtsheld a pre-game ceremony and a Parade of Nations, featuring flags from all 75 current Peace Corps countries. In addition, Peace Corps was featured throughout the game.
Peace Corps Night commemorated 45 years of service to the global community. The executive order establishing the Peace Corps was signed on March 1, 1961, and the legislation formally creating the agency was signed into public law (P.L. 87-293) on September 22, 1961.
The Peace Corps is celebrating a 45-year legacy of service at home and abroad, and a 30-year high for Volunteers in the field. Since 1961, more than 182,000 Volunteers have helped promote a better understanding between Americans and the people of the 138 countries where Volunteers have served. Peace Corps Volunteers must be U.S. citizens and at least 18 years of age. Peace Corps service is a 27-month commitment.
# # #
---