FOR IMMEDIATE RELEASE:
Wednesday, November 16, 2011
Peace Corps Named One of the Best Places to Work in the Federal Government
Agency ranked fourth in the small agency category
WASHINGTON, D.C., Nov. 16, 2011 The Peace Corps was named fourth in the small agency category in the nonprofit Partnership for Public Services
2011 Best Places to Work in the Federal Government
, climbing one slot from 2010. The rankings measure employee satisfaction and are based on a survey of more than 276,000 federal workers at 308 federal agencies and subcomponents. They are ranked within one of three categories: large agency, small agency and federal subcomponent.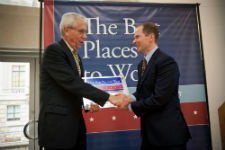 The Peace Corps is committed to excellence and continues to attract employees dedicated to public service, said Peace Corps Director Aaron S. Williams. Im delighted that so many men and women, including returned Peace Corps volunteers, contribute their talents by working as federal employees at the Peace Corps. Returned Peace Corps volunteers have demonstrated leadership skills, creativity, and determination during their 27-month commitment overseas. Upon volunteers return to the U.S., they receive one year of
noncompetitive eligibility
for employment in the federal government and many continue their career in public service.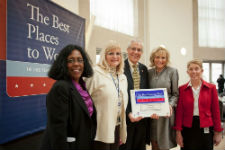 The rankings represent an in-depth look at the views of federal employees. Agencies are ranked in 10 workplace categories, including leadership, work/life balance, training and development, diversity, and teamwork. The rankings are compiled by the Partnership for Public Service from the U.S. Office of Personnel Managements (OPM) annual Federal Employee Viewpoint Survey and additional data. The Partnership for Public Service first produced the "Best Places to Work in the Federal Government rankings in 2003.
About the Peace Corps:
President John F. Kennedy established the Peace Corps on March 1, 1961, by executive order. Throughout 2011, Peace Corps is commemorating 50 years of promoting peace and friendship around the world. Historically, more than 200,000 Americans have served with the Peace Corps to promote a better understanding between Americans and the people of 139 host countries. Today, 9,095 volunteers are working with local communities in 75 host countries. Peace Corps volunteers must be U.S. citizens and at least 18 years of age. Peace Corps service is a 27-month commitment. Visit www.peacecorps.gov for more information.
# # #
---