FOR IMMEDIATE RELEASE:
Tuesday, November 17, 2009
Peace Corps Mourns the Loss of Volunteer So-Youn Kim
WASHINGTON, D.C., November 17, 2009
Peace Corps Director Aaron S. Williams is saddened to announce the death of Peace Corps/Morocco volunteer So-Youn Kim. Ms. Kim passed away on November 16 in Marrakech unexpectedly after an illness. The exact cause of death remains unknown.
So-Youn was an exemplary volunteer, passionate about public service and creating programs that benefited communities from the Bay Area to Morocco, said Director Williams. She was a tireless advocate, a remarkable writer, a voracious reader and talented in many languages. My thoughts are with her friends and family who join me in mourning a respected member of the Peace Corps family.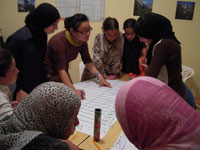 Ms. Kim of San Francisco was 23 years old. She graduated from Stanford University in 2007 and began her Peace Corps service in September 2008. Ms. Kim served as a youth development volunteer in Tamegroute, a small village within the Zagora province. Ms. Kims primary assignment was serving in a youth center where she was involved in a wide range of activities in her dual role as English teacher and youth development worker.
In addition to her primary assignment, Ms. Kim sought out additional activities focused on helping the pottery cooperative in Tamegroute and developing an apprenticeship program. She loved to teach children, support the cooperative and respect the historic craft.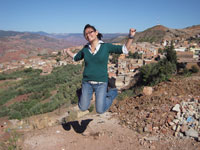 In September of 2008, Ms. Kim submitted a thoughtful and hopeful Peace Corps aspiration statement. She described her outlook on her service project, and wrote, Youth development work is effective when young people are taught to become educated, empowered, and responsible members of their communities while being given space to explore and share the challenges of their own individual identities. This is an ethos and passion Ms. Kim brought with her to Morocco.
The Peace Corps community will hold a memorial service for Ms. Kim on Saturday, November 21 in Morocco.
ABOUT PEACE CORPS/MOROCCO
Since 1963, over 4,315 Peace Corps volunteers have served in Morocco. Peace Corps/Morocco Volunteers are assigned to projects in four primary areas: youth development, health, environment, and small business development. Currently, 254 Peace Corps Volunteers are serving in Morocco.
# # #
---