FOR IMMEDIATE RELEASE:
Wednesday, August 31, 2011
Peace Corps Mourns the Loss of Volunteer Julianne Amundson
WASHINGTON, D.C., August 31, 2011Peace Corps Director Aaron S. Williams is saddened to announce the death of Peace Corps volunteer Julianne Amundson. Julianne, 69, was serving as an English teacher with the Peace Corps program in Jordan and died of natural causes in Stockton, Calif., on August 27. Julianne is survived by four sons.
Julianne was an exceptional volunteer and a committed English teacher working to strengthen our friendship with the people of Jordan, said Director Williams. On behalf of the entire Peace Corps community, our thoughts are with Juliannes family, friends, and fellow volunteers.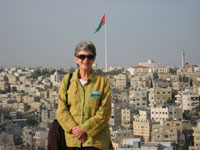 Julianne arrived in Jordan for Peace Corps training in October 2009 and was sworn in as a volunteer in December 2009. She served as an English teacher at Um Ar-Rasas Comprehensive Girls School in Jordan. At the school, she helped create a reading library with globes, maps, a computer, and other reference materials for teachers.
As a secondary Peace Corps project, she worked with her community to establish a resource center for local women to sell handicrafts at the Um Ar-Rasas Roman Mosaic site, which contains some of the largest historical mosaics in Jordan. Julianne was to complete her service in December 2011.
Prior to serving with the Peace Corps, Julianne worked for many years as a teacher in Stockton, Calif. She taught child development and family education in the Lincoln Unified School District in Stockton, and was a resource teacher in the Pasadena Unified School District. She also served for two years as the president of Mable Barron Elementary School Parent, Teacher, Student Association.
There are 66 Americans serving as Peace Corps volunteers in Jordan. Volunteers work in the areas of education, and youth and community development. Volunteers are trained in colloquial Arabic.
The following information on memorial services was provided to the Peace Corps by Juliannes family:
Visitation:
Thursday, September 1, 2011, 12-6 p.m at DeYoung Memorial Chapel in Stockton.
Mass of Christian Burial:
Friday, September 2, 2011 at 10:00 a.m. at the Church of the Presentation, 6715 Leesburg Place in Stockton.
Donations may also be made to the Amundson Family Cancer Prevention Fund, c/o Lincoln High Schools, 2010 W. Swain Road, Stockton, Calif. 95207.
About the Peace Corps:
President John F. Kennedy established the Peace Corps on March 1, 1961, by executive order. Throughout 2011, Peace Corps is commemorating 50 years of promoting peace and friendship around the world. Historically, more than 200,000 Americans have served with the Peace Corps to promote a better understanding between Americans and the people of 139 host countries. Today, 8,655 volunteers are working with local communities in 76 host countries. Peace Corps volunteers must be U.S. citizens and at least 18 years of age. Peace Corps service is a 27-month commitment. Visit www.peacecorps.gov for more information.
# # #
---