FOR IMMEDIATE RELEASE:
Monday, March 10, 2014
Peace Corps Mourns the Loss of Volunteer Ashley Earl
WASHINGTON, D.C., March 10, 2014 – Peace Corps Acting Director Carrie Hessler-Radelet is saddened to confirm the death of Peace Corps volunteer Ashley Earl. Ashley, 30, passed away in her host community of Oshakati, Namibia on Saturday.
"Ashley was an exceptional Peace Corps volunteer, deeply engaged in her work with the youth of Oshakati," Acting Director Carrie Hessler-Radelet said. "The entire Peace Corps family is devastated by this loss, and our thoughts and prayers are with her family during this difficult time."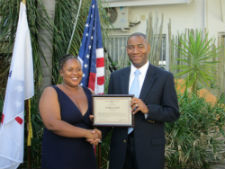 Ashley, of Kent, Wash., entered service as a Peace Corps volunteer in Namibia on March 13, 2012. Since that time, she has been serving as a community health volunteer, working with Catholic AIDS Action and coordinating after-school activities for youth in her community of Oshakati, in northern Namibia.
Peace Corps Namibia staff describe Ashley as "gregarious, engaging and unfailingly polite," and as a volunteer who "cared deeply for her students, and taught them to show respect for others as well as respect for themselves."
Ashley's fellow volunteers, counterparts and friends in her community loved her spirit, frequent laughter and quick wit. Ashley referred to the children she worked with as "my kids," and her colleagues said that those children were "so much better off for having her in their lives."
A graduate of Central Washington University, Ashley earned a Bachelor of Arts in law and justice, and in sociology, as well as a master's degree in social work from Eastern Washington University. Her commitment to service began prior to joining the Peace Corps, as she served for six years in the United States Army Reserve, and worked as a visitation facilitator at the Spokane, Wash., Child Abuse network, at the Women's Studies Center of Cheney, Wash., and at the Veterans' Coalition of Ellensburg, Wash.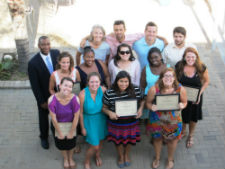 At the start of her Peace Corps service, Ashley pointed to her "determination" as the professional attribute she would most rely on, and said that while "a person might not be able to help everyone, I will feel fulfilled if I could help as many as want to be helped." She wrote, "I am hoping that I will be able to instill or inspire positive change in the community I will be working with."
Ashley was an avid reader with a thirst for knowledge who also enjoyed watching movies, doing needlepoint and exercising in her spare time. She is survived by her parents, Phylliss and Lee Lundquist, and her beloved sister, Stacy Earl, in Washington state.
# # #
---