FOR IMMEDIATE RELEASE:
Wednesday, November 1, 2017
Peace Corps Mourns the Loss of Volunteer Hanna Huntley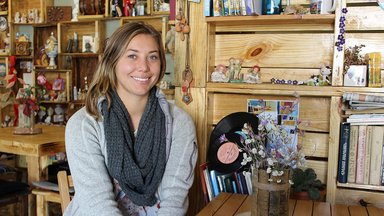 Washington, D.C., November 1, 2017 – Acting Peace Corps Director Sheila Crowley is saddened to confirm the death of Peace Corps volunteer Hanna Huntley of Camp Lejeune, North Carolina. Hanna, 23, died from an automobile accident in Armenia on October 31, 2017.
"Hanna had a gift for languages and a passion for helping women and children. As a college student, she tutored children in Washington, D.C., and later cared for orphans in Romania," Acting Director Crowley said. "I was privileged to meet Hanna during her swearing-in ceremony in Armenia in June. We are devastated that her promising life was cut short. Our hearts go out to Hanna's family and friends during this profoundly difficult time."
Hanna served as a Community Youth Development volunteer in Armenia. She worked at the Sevan Youth Club, a non-governmental agency in Sevan, Armenia, and made notable contributions, participating in the opening of the community's first artistic teahouse and helping to organize a summer music festival. She also started an English club and was developing initiatives aimed at encouraging young community members to fully develop their potential.
Before beginning her Peace Corps service, Hanna wrote that serving in Armenia would be "… a dream come true." Having taught English as a second language since she was 18, she looked forward to learning Armenian and using her cross-cultural skills to improve the lives of women and children.
Hanna received her undergraduate degree in international relations in 2016 from American University. While there, she tutored elementary school students at DC Reads and was active in Chi Alpha Campus Ministries and the AU Independent Arts Collective. Fluent in Hungarian, Spanish, and Russian, she taught English in Hungary and Slovakia; she also lived in Romania for several months, caring for young orphans and teaching them English.
She is survived by her parents, Krista and COL Peter D. Huntley, her brothers, Max and LT Peter Oscar Huntley, and friend Franny Valour.
# # #
---