FOR IMMEDIATE RELEASE:
Friday, August 17, 2018
Peace Corps mourns the loss of Mitchell Herrmann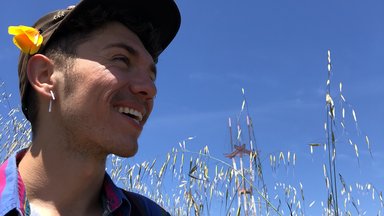 WASHINGTON – Mitchell Herrmann, a Peace Corps trainee in Namibia, died suddenly Thursday, August 16.
Mitchell, 24, of Lake Worth, Florida, was training to teach science as a Peace Corps volunteer.
"The entire Peace Corps family is mourning the loss of Mitchell Herrmann, one of our newest members and a young man who stood ready to share his passion for teaching with the people of Namibia," said Peace Corps Director Jody Olsen. "We send our deepest sympathies to Mitchell's parents and loved ones. Our hearts and prayers are with them as we set out to honor Mitchell's memory and celebrate his life."
Mitchell, who earned a bachelor's degree in geology from Florida Atlantic University, was an environmental educator for several organizations before he entered the Peace Corps earlier this month. Most recently, he taught at the Arrowhead Ranch Outdoor Science School in California.
"What I primarily desire to bring forth in my time of service revolves around my strengths in the realm of environmental education, my aptitude to foster a sense of nurturing and passion for education, and also my positivity in the realms of encouragement, engagement, and motivation," wrote Mitchell in an aspiration statement prior to traveling to Namibia to begin his training.
His fellow trainees, as well as Peace Corps staff, appreciated his kindness and enthusiasm for the education program. They are planning a vigil this evening and a formal memorial service in the near future.
Mitchell is survived by his mother Lisa Mirich, father Eduard Herrmann, stepfather Alex Mirich, stepmother Dawn Herrmann, brother Ethan Herrmann, sister Sierra Herrmann, grandmother Celia Muschett, and a large extended family. 
# # #
About the Peace Corps: The Peace Corps sends Americans with a passion for service abroad on behalf of the United States to work with communities and create lasting change. Volunteers develop sustainable solutions to address challenges in education, health, community economic development, agriculture, environment and youth development. Through their Peace Corps experience, volunteers gain a unique cultural understanding and a life-long commitment to service that positions them to succeed in today's global economy. Since President John F. Kennedy established the Peace Corps in 1961, more than 230,000 Americans of all ages have served in 141 countries worldwide.
For more information, visit peacecorps.gov and follow us on Facebook and Twitter.
---