FOR IMMEDIATE RELEASE:
Wednesday, July 24, 2019
Peace Corps mourns the loss of Donovan Gregg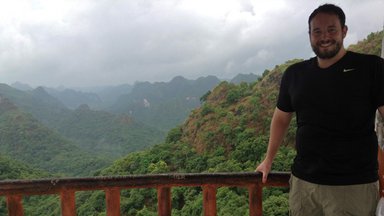 WASHINGTON – Peace Corps Response Volunteer Donovan Gregg, 31, of Beaverton, Oregon, died following a car accident July 23 in Rwanda.
Donovan, who trained English teachers at a university in Kigali, served in Peace Corps Response with his wife of eight years Jessica Gregg. The Greggs were also Peace Corps Volunteers together in Ethiopia from 2014 to 2016.
The couple began work in Rwanda in January 2019.
"Donovan Gregg was an extraordinary volunteer who, with his wife Jessica, devoted his life to service, education and learning about new cultures," said Peace Corps Director Jody Olsen. "We are heartbroken by this tragic news, and we send our condolences to Jessica, his mother Debbie, and their families. Donovan will always be remembered by the Peace Corps and the many people whose lives he touched around the world."
Donovan, a TEFL-certified English teacher, graduated from Western Oregon University in Monmouth and earned a master's degree from the Willy Brandt School of Public Policy in Erfurt, Germany. He also completed an internship with the Department of Commerce at the U.S. Embassy in Berlin.
During his time in Ethiopia, Donovan provided classroom instruction for five public school English classes, led training sessions for Peace Corps trainees and managed budgeting and logistics for youth summer camps, among other projects.
Earlier in his career, Donovan was an English teacher in Busan, South Korea, where he worked with 700 students from 2012 to 2014. He also worked for the German Engagement Prize Foundation in Erfurt and taught Afghan students and teachers with the American Councils for International Education in Mumbai, India.
Donovan was fluent in German and spoke Oromifa and Amharic.
"Donovan was a person with an easy smile who personified the Peace Corps spirit of development through cultural exchange," said Peace Corps Rwanda Country Director Keith Hackett.
In addition to his wife Jessica Marie Macaulay Gregg, Donovan is survived by his mother Deborah Jean (Porter) Gregg, father Donnelly David Gregg, grandmother Esther Gregg, parents-in-law Shirley Anne Hauge and Gregory Dale Harris, half-siblings Cameron, Erica, Benjamin and Jonathan Gregg, step-sister-in-law Chloe Harris and her husband Terry Parker, aunt Rebecca Tevis and her husband Ken and cousin Casey Tevis.
# # #
About the Peace Corps: The Peace Corps sends Americans with a passion for service abroad on behalf of the United States to work with communities and create lasting change. Volunteers develop sustainable solutions to address challenges in education, health, community economic development, agriculture, the environment and youth development. Through their Peace Corps experience, volunteers gain a unique cultural understanding and a life-long commitment to service that positions them to succeed in today's global economy. Since President John F. Kennedy established the Peace Corps in 1961, more than 235,000 Americans of all ages have served in 141 countries worldwide. For more information, visit peacecorps.gov and follow us on Facebook, Instagram and Twitter.
---