FOR IMMEDIATE RELEASE:
Friday, April 12, 2019
Peace Corps Malawi reaches 10,604 community members with literacy-promoting activities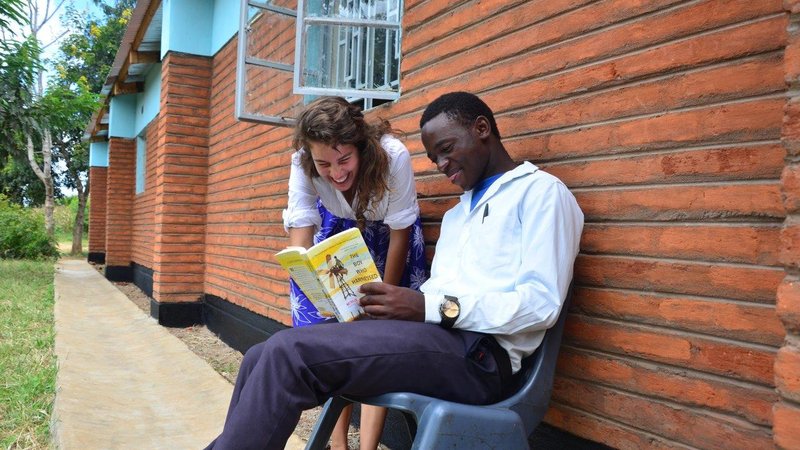 WASHINGTON – Recognized annually on April 12th, Drop Everything and Read (D.E.A.R.) Day is a national celebration of reading designed to remind people of all ages to make reading a priority in their lives. In many classrooms around the world, D.E.A.R. Day has transformed into a week-long or month-long event to promote reading, writing and public speaking.
This year, the 42 Peace Corps Malawi volunteers who hosted or participated in D.E.A.R. Day reached 10,604 community members with literacy-promoting activities, and were able to celebrate the day in a unique way.
Through an anonymous $20,000 donation from a returned volunteer, Peace Corps Malawi County Director Carol Spahn acquired 4,000 copies of "The Boy Who Harnessed the Wind: Young Readers Edition" for her post. The donation coincided with the release of a film by the same name by Oscar nominee Chiwetel Ejiofor.
Both the book and movie focus on the life of young William Kamkwamba, a Malawian innovator, engineer and author who, despite dropping out of school due to a lack of tuition money, taught himself how to build a wind turbine out of scrap metal in order to bring power to his rural village.
Kamkwamba eventually found his way to the United States and is now a Dartmouth graduate. However, his academic beginnings started at a local Community Day Secondary School (C.D.S.S.) in Kasungu, Malawi. Today, Peace Corps volunteers in Malawi teach solely at C.D.S.S. schools, as they have been identified as the most under-resourced schools in the country.
By utilizing the anonymous donation, Spahn ensured that every education volunteer in Malawi received a classroom set of 40 books in time for D.E.A.R. Day, which has allowed their students to work on literacy and English language skills using a story with a familiar setting. At a C.D.S.S, where it is common for 10-20 students to share a single book during lessons, the classroom sets are proving to be helpful learning tools.
Wilford Profera, a form four student who is reading "The Boy Who Harnessed the Wind" with his teacher, Peace Corps education volunteer Nan Boyle, said, "It's nice to see traditional practices from our community represented [in the novel]." Profera's peer, Janet Banda, added, "I like it because it differentiates between Malawian culture in the past and in the present."
# # #
About the Peace Corps: The Peace Corps sends Americans with a passion for service abroad on behalf of the United States to work with communities and create lasting change. Volunteers develop sustainable solutions to address challenges in education, health, community economic development, agriculture, the environment and youth development. Through their Peace Corps experience, volunteers gain a unique cultural understanding and a life-long commitment to service that positions them to succeed in today's global economy. Since President John F. Kennedy established the Peace Corps in 1961, more than 235,000 Americans of all ages have served in 141 countries worldwide. For more information, visit peacecorps.gov and follow us on Facebook, Instagram and Twitter.
---