FOR IMMEDIATE RELEASE:
Tuesday, June 11, 2019
Peace Corps launches Thought Leader Series with experts from the world of agriculture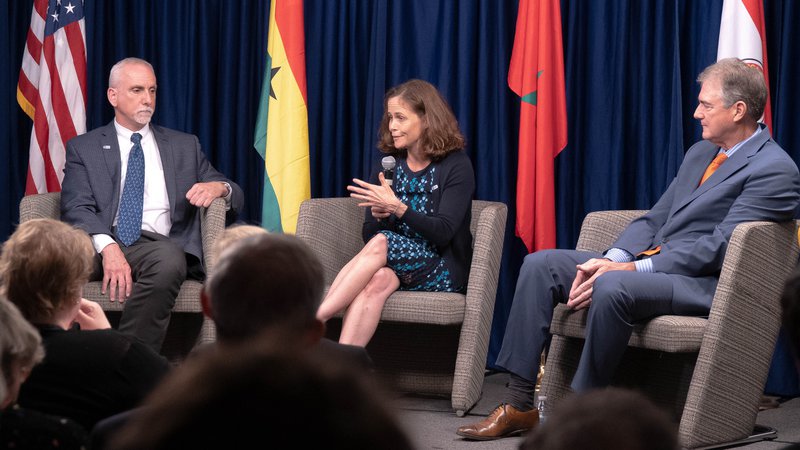 WASHINGTON – Returned Peace Corps volunteers working in agriculture and food security spoke at Peace Corps Headquarters June 11 for the first installment of the agency's Thought Leader Series, which brings together influential professionals from various fields to explore how volunteer service shaped their lives and careers.
"The experience of living overseas, not just visiting but living, changes your world view," said Tim Hamilton, who served in Peace Corps Ghana and now works as executive director of the Food Export Association of the Midwest and Northwest. "A global perspective is needed in this country, and Peace Corps provides that."
Volunteers are also problem solvers, he said.
Though he had no experience as a mechanic, Hamilton was called on to fix a broken-down excavator during construction of a fish pond in Ghana. "You go into service with one thing in mind and you have to be flexible," he said. "Volunteers have to learn to adapt and figure things out, which provides a good foundation regardless of your career."
Beth Dunford, assistant to the administrator for Food Security at USAID, lived in a small village in Morocco during her three years in the Peace Corps. She said life in her host community, where she learned the local language and foodways, gave her intercultural skills that have shaped her work in the development sector.
"It's not OK for people to be hungry when agriculture is present and available," said Dunford, who helps lead the Feed the Future program at USAID. "I realized I wanted to be part of a broader solution, to give people a better chance."
The panel also included returned Paraguay volunteer Ken Roberts, head of Corporate Government Affairs at Mondelez International.
Roberts grew up in Missouri and saw the Peace Corps as an opportunity for personal and professional growth. As a volunteer, he was an advisor to Paraguay's ministry of agriculture.
"It doesn't matter if you come from an agricultural background or not," said Roberts, who worked for many years for the USDA's Foreign Agricultural Service. "If you want to get something done, if you're self-motivated, you can do that."
Peace Corps Director Jody Olsen said she hopes the Thought Leaders Series demonstrates the return on investment of Peace Corps service and the personal and professional development that occurs among Peace Corps volunteers.
The June 11 forum was moderated by Bill Guyton and Kate Raftery. Guyton, who was a volunteer in the Democratic Republic of Congo, is an agricultural economist and executive director of the Fine Chocolate Industry Association. Raftery, who served in Paraguay, leads the Peace Corps Service Innovation program.
# # #
About the Peace Corps: The Peace Corps sends Americans with a passion for service abroad on behalf of the United States to work with communities and create lasting change. Volunteers develop sustainable solutions to address challenges in education, health, community economic development, agriculture, the environment and youth development. Through their Peace Corps experience, volunteers gain a unique cultural understanding and a life-long commitment to service that positions them to succeed in today's global economy. Since President John F. Kennedy established the Peace Corps in 1961, more than 235,000 Americans of all ages have served in 141 countries worldwide. For more information, visit peacecorps.gov and follow us on Facebook, Instagram and Twitter.
---