FOR IMMEDIATE RELEASE:
Thursday, August 15, 2013
Peace Corps Launches Redesigned World Wise Schools Website to Help Educators Bring Cross-Cultural Learning to their Classrooms for the New School Year
WASHINGTON, D.C., August 15, 2013 – As students and teachers gear up for back to school, the Peace Corps today launched a newly redesigned Paul D. Coverdell World Wise Schools website to help bring the Peace Corps experience home to American classrooms. The redesigned website makes it easier than ever for educators to find free, cross-cultural learning materials including videos, lesson plans, podcasts, publications and even an online game that promote cultural awareness, broaden perspectives, and encourage service among students.
Technology has changed the way the world communicates, and it not only helps Peace Corps volunteers promote development change in the countries they serve, but also allows them to invite others to take part in their service and learn from their cultural experiences abroad. On World Wise Schools new user-friendly website, educators can sign up to connect their students with currently serving Peace Corps volunteers as part of the Correspondence Match program to exchange ideas, stories, pictures and artifacts that help students learn about the people, geography and cultures of the world. About 90 percent of volunteers around the world have cell phones and nearly 65 percent have access to the Internet, offering a number of different ways for students and Peace Corps volunteers to interact.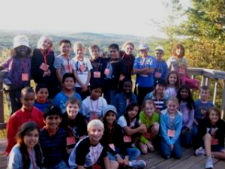 "The Correspondence Match program can have a great impact on students to encourage learning outside of their immediate community," said Peace Corps volunteer and Correspondence Match participant Shadae Paul, who has been living and working in Fiji since 2012. "I've been communicating back and forth with my classroom in the U.S. often via email and we plan to start using Skype."
Recently returned Peace Corps volunteer Andy Schetter participated in the Correspondence Match program throughout his service in Moldova from 2010-2013. His sister, Laura Schetter, is a teacher in Toledo, Ohio, and the two had regular Skype calls with Laura's third grade students.
"Through weekly Skype calls, my students have learned a lot about life in Moldova and the Peace Corps," Laura said. "These conferences between my third graders and Andy have included brief language lessons, Q&A sessions, comparing American and Moldovan cultures, and learning about holiday traditions. The Peace Corps Correspondence Match and Andy have provided an engaging way to teach Social Studies. The program has piqued my students' interest in learning about international topics. It has also been a model for volunteering to promote friendship in the global community. Andy has become a celebrity to my students, as they look forward to his virtual weekly visit. It has really helped my students gain global perspective."
The World Wise Schools website also allows educators to connect with returned Peace Corps volunteers in their local communities who can visit with students in person through the Speakers Match program to share their first-hand perspectives, stories and experiences of life and cultures abroad.
Since its founding in 1989, the World Wise Schools program has worked to fulfill Peace Corps' Third Goal: to educate Americans about the people and countries where Peace Corps volunteers serve. More than 3 million students have participated in World Wise Schools programs that have helped to broaden their perspectives, increase cultural awareness and understanding of global connections, and encourage community service. To find out more about the resources available through World Wise Schools newly resigned website, visit http://www.peacecorps.gov/wws/.
About the Peace Corps: Since President John F. Kennedy established the Peace Corps by executive order on March 1, 1961, more than 210,000 Americans have served in 139 host countries. Today, 8,073 volunteers are working with local communities in 76 host countries in agriculture, community economic development, education, environment, health and youth in development. Peace Corps volunteers must be U.S. citizens and at least 18 years of age. Peace Corps service is a 27-month commitment and the agency's mission is to promote world peace and friendship and a better understanding between Americans and people of other countries. Visit www.peacecorps.gov for more information.
# # #
---