FOR IMMEDIATE RELEASE:
Monday, September 9, 2013
Peace Corps Launches Program in Kosovo
Kosovo represents the Peace Corps' 140th country of service
WASHINGTON, D.C., September 9, 2013 – The Peace Corps today announced an agreement that will bring Peace Corps volunteers to the Republic of Kosovo, representing the agency's 140th country of service since its establishment in 1961. The announcement was made during an official signing ceremony at the Office of the President in Pristina, Kosovo, where the agreement was signed by the President of the Republic of Kosovo Atifete Jahjaga and Peace Corps' former regional director and current associate director of volunteer recruitment and selection Helen Lowman. Kosovo is Peace Corps' first entry into a new country since opening a program in Cambodia in 2007.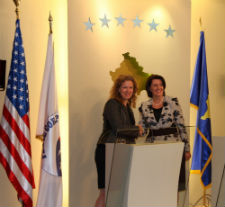 "We are excited to announce the opening of a Peace Corps program in Kosovo – the 140th country of service in Peace Corps' history," Peace Corps Acting Director Carrie Hessler-Radelet said. "This new program in a majority Muslim nation in the heart of Europe demonstrates Peace Corps' important role in achieving America's development and citizen diplomacy goals."
The first group of approximately 20 Peace Corps Kosovo volunteers will teach English at local secondary schools. They are scheduled to arrive in June 2014 and will undergo three months of comprehensive cross-cultural, language and technical training before traveling to their volunteer sites. Peace Corps volunteers are also encouraged to participate in community and school-based projects, which offer opportunities to share experiences, transfer skills and knowledge, and foster greater understanding between volunteers and their host communities. The success of Peace Corps is built on the people-to-people exchange of ideas at the grassroots level.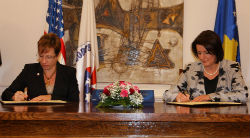 "With the great support of USAID and the U.S. Department of State, the Peace Corps looks forward to establishing a vibrant and enduring program in Kosovo," Lowman said following the signing ceremony.
Peace Corps staff are arriving in Kosovo in the coming weeks and will work with the Kosovar government to identify the local communities that will be best served by Peace Corps volunteers.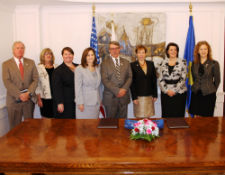 "On behalf of our U.S. Mission, I am proud to support Peace Corps in opening its newest post here in Kosovo," said U.S. Ambassador to the Republic of Kosovo Tracey Jacobson. "We are excited by the prospect of volunteers working with Kosovo's citizens and making significant contributions to communities throughout the country. The friendships they make will serve the people of Kosovo and the United States for years to come."
Volunteers who serve in Kosovo will enter a country that has shown significant economic progress in recent years. Since the country gained independence in 2008, Kosovo has welcomed new partnerships with the U.S. government and other U.S. organizations.
About the Peace Corps: Since President John F. Kennedy established the Peace Corps by executive order on March 1, 1961, more than 210,000 Americans have served in 139 host countries. Today, 8,073 volunteers are working with local communities in 76 host countries in agriculture, community economic development, education, environment, health and youth in development. Peace Corps volunteers must be U.S. citizens and at least 18 years of age. Peace Corps service is a 27-month commitment and the agency's mission is to promote world peace and friendship and a better understanding between Americans and people of other countries. Visit www.peacecorps.gov for more information.
# # #
---