FOR IMMEDIATE RELEASE:
Tuesday, March 11, 2014
Peace Corps Kicks Off Career Development Events for Returned Volunteers Across the Country
First career conference begins Wednesday in Tempe, Arizona
WASHINGTON, D.C., March 11, 2014 – The Peace Corps is helping hundreds of returned volunteers enhance their competitiveness in the job market and network with potential employers at a series of upcoming career development events taking place across the country this spring.
Beginning Wed., March 12 at Arizona State University, returned volunteers will have the opportunity to hone the skills they learned during their Peace Corps service abroad and network with employers eager to hire from Peace Corps' competitive network of globally competent volunteers. The two-day event will feature workshops on resume writing, conducting an effective job search, and translating Peace Corps skills for employers. Nearly 20 employers from both the public and private sectors have registered to attend.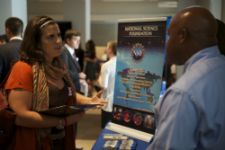 In the months ahead, similar events will take place in Washington, D.C., Chicago and Nashville. Each conference will include networking sessions, workshops and career fairs featuring local companies looking to hire. Returned volunteers can also get tips on how to successfully transition following their service and how to maximize graduate school assistance through programs like the Peace Corps' Paul D. Coverdell Fellows Program.
Returned volunteers who successfully complete their Peace Corps service have the benefit of being eligible for noncompetitive appointments for certain federal government positions for up to one year after their service, making the hiring process simpler and faster for both volunteers and employers.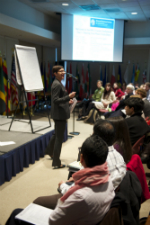 Volunteers who have served with the Peace Corps return home with a global perspective and cross-cultural, leadership, community development and language skills that give them a competitive edge for advanced education and job opportunities in today's global economy. They give back to their communities here at home and enrich the lives of those around them, helping to strengthen international ties and increase our country's global competitiveness. In today's interconnected world, the Peace Corps experience cultivates vital skills that employers are looking for now more than ever.
To learn more about Washington, D.C.'s upcoming career development events, click here.
To learn more about Chicago's upcoming career development events, click here.
To learn more about Nashville's upcoming career development events, click here.
Employers interested in participating in any of these events can contact [email protected].
About the Peace Corps: As the preeminent international service organization of the United States, the Peace Corps sends Americans abroad to tackle the most pressing needs of people around the world. Peace Corps volunteers work at the grassroots level with local governments, schools, communities, small businesses and entrepreneurs to develop sustainable solutions that address challenges in education, health, economic development, agriculture, environment and youth development. When they return home, volunteers bring their knowledge and experiences – and a global outlook – back to the United States that enriches the lives of those around them. President John F. Kennedy established the Peace Corps in 1961 to foster a better understanding among Americans and people of other countries. Since then, more than 215,000 Americans of all ages have served in 139 countries worldwide. Visit www.peacecorps.gov to learn more.
# # #
---