FOR IMMEDIATE RELEASE:
Thursday, February 5, 2015
Peace Corps Invites Prospective Applicants to Black History Month Events Across the Country
WASHINGTON, D.C., Feb. 5, 2015 – Throughout Black History Month, the Peace Corps is inviting interested applicants to learn about the Peace Corps experience and talk with returned volunteers at events across the country.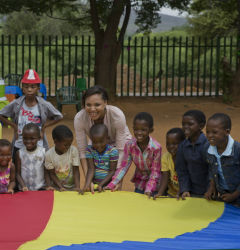 As part of the agency's recruitment reforms announced last summer, the Peace Corps is stepping up its outreach in under-represented communities to grow the diversity of its volunteer force. One-fourth of current Peace Corps volunteers self-report as ethnic and racial minorities.
The Peace Corps aims to recruit the best and brightest volunteers to serve abroad that reflect the rich diversity of the American people.
"I think my race allowed me to connect to community members of all colors because of the different ways that they saw me," said recently returned Peace Corps volunteer Jvani Cabiness, who served in Botswana from 2012-14. "The best experiences came when I had the chance to clarify the conceptions of black America. My time in Botswana helped reaffirm my cultural identify as an African-American."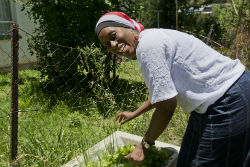 "Drawing upon my own diverse cultural heritage enables me to build a lot of bridges and even friendships while in the Dominican Republic," said volunteer Christopher Earl MacAlpine-Belton, who has been living in the Dominican Republic since 2013. "I know both me and my community contacts had to adjust to each other the first summer I came to my site. But a few months in, we were a big happy family."
The agency has hired seven staff members dedicated to diversity recruitment and is building and strengthening its partnerships with organizations like Alpha Phi Alpha, Alpha Kappa Alpha and Historically Black Colleges and Universities.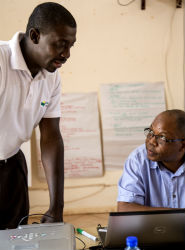 "Being an African-American volunteer was a wonderful and gratifying experience," said recently returned volunteer Jacqueline Muhammad, who lived in Lesotho from 2012-14. "I know that I was a role model to many – seeing someone who looked like them and who has achieved personal success was a source of encouragement."
"My parents came to the U.S. from Ghana, so at first it was difficult for them to understand why, as a first-generation American, I wanted to go back to Africa," said volunteer Gilbert Bonsu who has been living in South Africa since 2013. "But after explaining the benefits of Peace Corps service and how it fits into my career and life goals, they supported my decision to apply."
Peace Corps' Office of Diversity and National Outreach works to recruit a diverse pool of volunteers and build an inclusive culture that welcomes applicants and volunteers from all backgrounds. Find the Peace Corps recruitment office near you by visiting the agency's website and get information on upcoming events on the Peace Corps events page.
About the Peace Corps: The Peace Corps sends the best and brightest Americans abroad on behalf of the United States to tackle the most pressing needs of people around the world. Volunteers work at the grassroots level to develop sustainable solutions that address challenges in education, health, economic development, agriculture, environment and youth development. Through their service, volunteers gain a unique cultural understanding and a life-long commitment to service that positions them to succeed in today's global economy. Since President John F. Kennedy established the Peace Corps in 1961, nearly 220,000 Americans of all ages have served in 140 countries worldwide. For more information, visit www.peacecorps.gov and follow us on Facebook and Twitter.
# # #
---