FOR IMMEDIATE RELEASE:
Wednesday, August 4, 2010
Peace Corps Hosts Young African Leaders for a Forum on Civic Engagement
WASHINGTON, D.C., August 4, 2010 The Peace Corps welcomed 115 young African leaders from 46 African nations to its headquarters in Washington, D.C. today as part of President Barack Obamas Young African Leaders Forum. This presidential initiative is designed to help such leaders exchange ideas and engage U.S. citizens and government officials concerning issues key to Africa\'s future.
Peace Corps Director Aaron S. Williams convened
Ubuntu: Partnering for Development in Africa
with the forum participants, returned Peace Corps volunteers from Africa, and partner organizations focused on promoting innovative partnerships for civic engagement and development.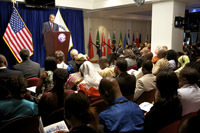 Throughout Peace Corps history, a central mission of our volunteers is to serve alongside our host country partners as they work to meet their own development priorities, Director Williams said in his address to forum delegates. Peace Corps volunteers have learned that one way we can add value to community development efforts is to help support local young leaders as they learn to become the catalysts of positive change in their communities. This is at the core of our service model. Director Williams remarks may be read in their entirety
here
.
Sandra E. Taylor, president and CEO of Sustainable Business International and former Starbucks senior vice president of corporate social responsibility, joined Director Williams at the event. Taylor moderated a social entrepreneurship and civic engagement panel with Frederick Swaniker and Virginia Emmons McNaught. Swaniker is founder and CEO of the African Leadership Academy, while Emmons McNaught is the founder of Educate Tomorrow and served in Niger as a Peace Corps volunteer.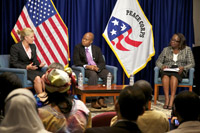 In addition to the panel session, the Peace Corps facilitated a peer-to-peer exchange that focused on how to mobilize youth leaders and communities toward meeting development needs. Participants shared promising practices from their experiences and learned about Peace Corps and other partners tools that can help support and promote effective youth leadership to build capacity and infrastructure. All participants received a copy of
Peace Corps V2 Volunteerism Action Guide
.The booklet provides ideas to facilitate service-learning activities in communities worldwide and is translated in Spanish, French and Portuguese
here
.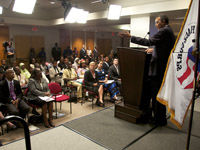 Since 1961, nearly 72,000 Americans have served as Peace Corps volunteers in 47 African nations. Today, Peace Corps has programs in 29 African host nations. The Africa programs currently account for over 40 percent of all Peace Corps volunteers serving in 77 countries world-wide. Nearly 3,300 volunteers presently work in partnership with African host government ministries, nongovernmental organizations, and local communities on sustainable development and capacity-building initiatives. To learn more about Peace Corps volunteers work in Africa, click
here
.
As Peace Corps approaches its 50th anniversary, its service legacy continues to promote peace and friendship around the world with 7,671 volunteers serving in 77 host countries. Historically, nearly 200,000 Americans have served with the Peace Corps to promote a better understanding between Americans and the people of 139 host countries. Peace Corps volunteers must be U.S. citizens and at least 18 years of age. Peace Corps service is a 27-month commitment.
# # #
# # #
---