FOR IMMEDIATE RELEASE:
Friday, October 29, 2010
Peace Corps Hosts NASA Administrator Maj. Gen. Charles Bolden
WASHINGTON, D.C., Oct. 29, 2010 The Peace Corps welcomed National Aeronautics and Space Administration (NASA) Administrator and retired Marine Corps Maj. Gen. Charles F. Bolden, Jr. to Peace Corps headquarters in Washington, D.C., today, as part of the Loret Miller Ruppe Speaker Series.
Peace Corps Director Aaron S. Williams introduced Maj. Gen. Bolden, who spoke of the importance of public service and leadership. After Maj. Gen. Boldens remarks, he answered questions from Peace Corps employees about his work with NASA and his Marine Corps service. Peace Corps nine regional recruiting offices were also tuned into the event via video conference.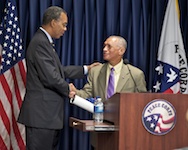 As Peace Corps commemorates its 50th Anniversary, we can reflect on the vision President Kennedy had for the Peace Corps, Peace Corps Director Aaron S. Williams said. It was that same vision and idealism of President Kennedy that led him to announce before a special joint session of Congress in May of 1961 his goal of putting a man on the moon by the end of the decade. Kennedys ambitions for the United States guided NASA\'s overall human spaceflight efforts, which culminated in putting the first man on the moon in 1969.
NASA and the Peace Corps came out of the same era, Bolden said. Both were created due to a call for social change and innovation. People are drawn to agencies such as ours because of their desire to contribute to national goals and to make the world a better place.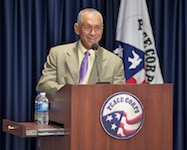 Peace Corps Loret Miller Ruppe Speakers Series honors the agency\'s longest serving director and is a forum for distinguished individuals to speak about issues related to the Peace Corps\' mission such as volunteering, public service, and international peace and development.
Bolden began his duties as the 12th administrator of NASA in July 2009. As administrator, he leads the NASA team and manages its resources to advance the agencys missions and goals. Bolden served 34 years with the Marine Corps and has traveled to orbit four times aboard the space shuttle between 1986 and 1994, commanding two missions. His many military decorations include the Defense Superior Service Medal and the Distinguished Flying Cross. He was inducted into the U.S. Astronaut Hall of Fame in May 2006.
About the Peace Corps:
President John F. Kennedy established the Peace Corps on March 1, 1961 by executive order. Peace Corps will commemorate 50 years of promoting peace and friendship around the world through 2011. Historically, more than 200,000 Americans have served with the Peace Corps to promote a better understanding between Americans and the people of 139 host countries. Today, 8,655 volunteers are working with local communities in 77 host countries. Peace Corps volunteers must be U.S. citizens and at least 18 years of age. Peace Corps service is a 27-month commitment.
# # #
---