FOR IMMEDIATE RELEASE:
Tuesday, August 15, 2006
Peace Corps Hosts Kids for Peace Camp
WASHINGTON, D.C. August 15, 2006 For the fourth year in a row, Peace Corps opened its doors to Kids for Peace Camp students, who spent the afternoon engaged in hands-on cultural exchange.
On Friday, 70 boys and girls learned about different customs and traditions from around the world. The campers participated in a variety of activities that ranged from storytelling, costume dress-up, and flag making to learning music and traditional dances from the regions. Events were organized by returned volunteers and Peace Corps staff.
Returned volunteers are in a position to explain the values and traditions of other cultures with a level of detail that few other Americans can, said Peace Corps Director Gaddi H. Vasquez.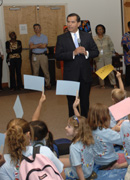 Director Vasquez greets Kids for Peace campers.
Mary Hilton, the Kids for Peace Camp director, spearheaded the camp after 9/11. She was working at Towson University in the international relations department, and was in Brazil for a recruiting event and flew back on September 11. "I believe the reason we were so shocked after 9/11 was that no one has a clue about other cultures. After sitting down with my team at Towson, we figured the best way to start was with kids, she said.
"Peace Corps was the first place we turned. We did a Web search to find programs similar to ours, but there is nothing like it. So we came to Peace Corps because of the great resources it can offer to us through returned volunteers and others who have had first hand experiences living abroad, Hilton said.
The purpose of the camp, Hilton said, is to make kids aware of issues in peace, justice, and conflict. "We also want them to understand what other amazing and unique cultures have to offer them."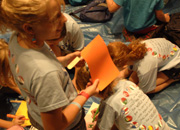 Campers learn about other cultures at interactive fair.
Sally Caldwell, the director of Coverdell World Wise Schools, who led the organization of the event this year, said the day is meant to engage learners in an inquiry about the world, themselves, and others in order to promote cultural awareness and encourage service. The activities here today are special. The kids are learning words in Swahili. Theyre learning about rug-making in Egypt and Bollywood dances from India. Theyre learning to put on a sari and a turban, and about martial arts from Brazil.
Many Peace Corps staff share Hiltons and Caldwells sentiments.
"I hope at the end of it they know that the world is fun, not scary, said Julie Driver, a Peace Corps staff member who decided to volunteer because others in her office had such a great time last year working with the children.
The Kids for Peace Camp has been partnered with the Peace Corps since 2003. Originally started at Towson University, in Towson, Md., the Kids for Peace Camp has now expanded to Ellicott City and Westminster, Md., as well. The nine week program is a weekly summer day camp for children ages 6-14. Each week, the campers are given the opportunity to learn about a different region of the world, which gives them an appreciation for cultures outside their own. In addition, many of the counselors hail from other regions of the world, from as far away as Nigeria to Brazil, and thus, bring new perspectives to the students.
The Peace Corps is celebrating a 45-year legacy of service at home and abroad, and a 30-year high for volunteers in the field. Since 1961, more than 182,000 volunteers have helped promote a better understanding between Americans and the people of the 138 countries where volunteers have served. Peace Corps volunteers must be U.S. citizens and at least 18 years of age. Peace Corps service is a 27-month commitment.
# # #
# # #
---