FOR IMMEDIATE RELEASE:
Tuesday, September 27, 2011
Peace Corps Hosts International Visitor Leadership Program on Volunteerism
Washington, D.C., Sept. 27, 2011 Emerging leaders from 50 Peace Corps host countries attended a day of programming at Peace Corps headquarters as part of "The Spirit of Volunteerism: Honoring 50 Years of the Peace Corps, a special initiative of the Department of States
International Visitor Leadership Program
(IVLP). The event helped kick off the three-week program that promotes public service and mutual understanding between the United States and other nations. The participants are host country nationals who were nominated by Peace Corps posts for leading outstanding service activities in their local communities.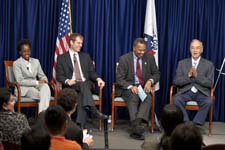 The program at Peace Corps headquarters included workshops and panels on service featuring former U.S. Senator Harris Wofford, special assistant to President John F. Kennedy during the creation of the Peace Corps; InterAction President and CEO Samuel A. Worthington; and returned Peace Corps volunteers.
Over the past 50 years, Peace Corps volunteers have worked shoulder-to-shoulder with host country partners to help improve the lives of people in local communities around the world, said Peace Corps Director Aaron S. Williams. I am honored to welcome the dynamic IVLP participants to Peace Corps headquarters and commend them for their demonstrated commitment to leadership and service.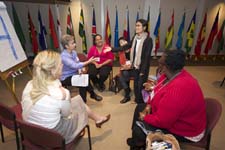 From Sept. 25 to Oct. 15, the 50 participants will be in the United States to learn how to empower people in their community through service. The participants will learn about Peace Corps 50-year legacy of service and how Americans use service in their local communities.
As part of the program, the emerging leaders participated in Peace Corps 50th anniversary events, including the Peace Corps Procession of Flags from the Arlington National Cemetery in Va. to the Lincoln Memorial in Washington, D.C., on Sept. 25.
Other cities that the participants will visit during their three-week program include Boston, Mass.; Boulder, Colo.; Bozeman, Mont.; Greensboro, N.C.; Pensacola, Fla.; Riverside, Calif.; Salt Lake City, Utah; San Antonio, Texas; Santa Fe, N.M.; Seattle, Wash.; Chicago, Ill.; Pittsburgh, Pa.; and Rochester, N.Y. The program will conclude in Chicago with a symposium on corporate social responsibility and social entrepreneurship.
About the Peace Corps:
President John F. Kennedy established the Peace Corps on March 1, 1961, by executive order. Throughout 2011, Peace Corps is commemorating 50 years of promoting peace and friendship around the world. Historically, more than 200,000 Americans have served with the Peace Corps to promote a better understanding between Americans and the people of 139 host countries. Today, 8,655 volunteers are working with local communities in 76 host countries. Peace Corps volunteers must be U.S. citizens and at least 18 years of age. Peace Corps service is a 27-month commitment. Visit www.peacecorps.gov for more information.
# # #
---