FOR IMMEDIATE RELEASE:
Tuesday, August 31, 2010
Peace Corps Hosts Former Secretary of State Madeleine Albright
WASHINGTON, D.C., August 31, 2010 The Peace Corps welcomed former Secretary of State Madeleine K. Albright to its headquarters in Washington D.C. as part of the Loret Miller Ruppe Speaker Series.
In a town hall format, Peace Corps Director Aaron S. Williams and Dr. Albright discussed the state of public service abroad, global education, and the role Peace Corps plays in encouraging Americans to bring their experiences abroad back home after serving overseas.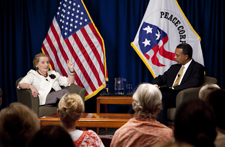 It is an honor to welcome Secretary Albright to Peace Corps. Events like this are a great way for our dedicated staff to interact with leaders on topics like public service, development, volunteering, foreign affairs and current events, said Director Williams. Secretary Albright has been a friend of the agency for quite some time. In fact, as Secretary of State, she swore in a new group of Volunteers in Mozambique in 1997. She also authored a chapter in the Peace Corps publication:
The Great Adventure
.
Dr. Albright fielded questions from Peace Corps employees and returned volunteers in the audience and questions submitted prior to the event by staff around the world. Peace Corps nine regional recruiting offices tuned into the town hall via videoconference.
Peace Corps demonstrates the goodness of what Americans can do to help and its not just saying this is our way or the highway, said Albright in response to a question from a Peace Corps staff member. I think public service really is the highest form of service, it is important to give back.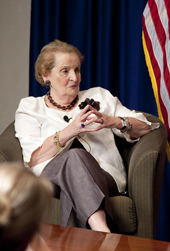 Dr. Albright thanked Director Williams and Peace Corps staff and volunteers for representing the best face of America. She called Peace Corps one of the finest institutions established by one of the great American presidents. President Kennedy established the Peace Corps on March 1, 1961.
Peace Corps Loret Miller Ruppe Speakers Series honors the agency\'s longest serving director and is a forum for distinguished individuals to speak about issues related to the Peace Corps\' mission such as volunteering, public service, and international peace and development.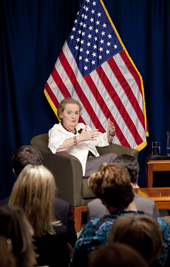 Dr. Madeleine K. Albright was named Secretary of State in 1997, the first woman to serve in that capacity. She is currently Chair of Albright Stonebridge Group, a global strategy firm, and Albright Capital Management LLC, an investment advisory firm focused on emerging markets. Dr. Albright is also a professor in the practice of diplomacy at the Georgetown University School of Foreign Service. She chairs the National Democratic Institute; is president of the Truman Scholarship Foundation; and serves on the boards of the Council on Foreign Relations, the Aspen Institute, and the Center for a New American Security. Dr. Albright earned a bachelors degree with honors from Wellesley College and masters and doctorate degrees from Columbia Universitys Department of Public Law and Government.
As Peace Corps approaches its 50th anniversary, its service legacy continues to promote peace and friendship around the world with 7,671 volunteers serving in 77 host countries. Historically, nearly 200,000 Americans have served with the Peace Corps to promote a better understanding between Americans and the people of 139 host countries. Peace Corps volunteers must be U.S. citizens and at least 18 years of age. Peace Corps service is a 27-month commitment.
# # #
# # #
---