FOR IMMEDIATE RELEASE:
Tuesday, July 26, 2011
Peace Corps Hosts Educational Event Attended by More Than 5,000 Moldovans
WASHINGTON, D.C., July 26, 2011 More than five thousand Moldovans attended a public concert and educational event organized by the Peace Corps on
July 16
to commemorate the agencys 50th anniversary and showcase the work of Peace Corps volunteers in Moldova. The event was held at Stefan cel Mare Park in Chisinau and featured U.S. Ambassador to Moldova Asif Chaudhry, Peace Corps Deputy Director Carrie Hessler-Radelet, and Moldovan Minister of Agriculture and Food Industry Vasile Bumacov.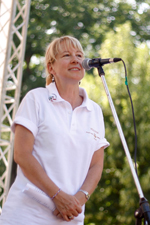 Today we honor the friendship between Peace Corps volunteers and the communities of Moldova, said Peace Corps Deputy Director Hessler-Radelet who delivered remarks at Stefan Cel Mare Park. This event is an excellent opportunity to learn more about Peace Corps legacy of service and the 1,000 Americans that have served as Peace Corps volunteers in villages and cities throughout Moldova for the last 18 years.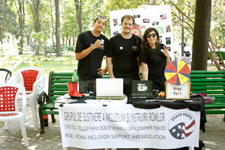 While Moldovan and American bands and dance groups provided entertainment, Peace Corps volunteers and staff shared presentations and information on volunteer projects in agri-business and rural business development, community and organizational development, school and community health education, and English education. Peace Corps volunteers also discussed Camp GLOW (Girls Leading Our World), a program that encourages self confidence, challenges campers to think beyond traditional gender roles, and addresses the unique societal and health issues that young women may face. Additionally, Peace Corps partner organizations displayed their wares, including handicrafts and locally grown organic vegetables.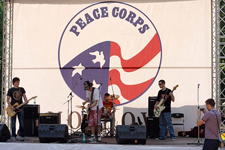 Earlier this month on July 12, the Peace Corps was awarded with the "Ordinul de Onoare" (Order of Honor), the highest state distinction given by presidential decree to foreign organizations and individuals in Moldova. The award was given to the Peace Corps in recognition of the contributions of current and returned volunteers to community development in Moldova and the outstanding friendship between Moldova and the United States.
About Peace Corps/Moldova:
More than 1,030 Peace Corps Volunteers have served in Moldova since the program was established in 1993. Currently, 104 Volunteers are serving in Moldova and 54 trainees will be sworn in as volunteers later this summer. Peace Corps Moldova Volunteers work in the areas of English education, school and community health education, agri-business and rural business development, and community and organizational development. Volunteers are trained and work in Romanian and Russian.
About the Peace Corps:
President John F. Kennedy established the Peace Corps on March 1, 1961, by executive order. Throughout 2011, Peace Corps is commemorating 50 years of promoting peace and friendship around the world. Historically, more than 200,000 Americans have served with the Peace Corps to promote a better understanding between Americans and the people of 139 host countries. Today, 8,655 volunteers are working with local communities in 76 host countries. Peace Corps volunteers must be U.S. citizens and at least 18 years of age. Peace Corps service is a 27-month commitment. Visit www.peacecorps.gov for more information.
# # #
---