FOR IMMEDIATE RELEASE:
Monday, May 23, 2011
Peace Corps Hosts Discussion on the Slovak Republic
WASHINGTON, D.C., May 23, 2011 The Embassy of the Slovak Republic, Friends of Slovakia, and returned Peace Corps volunteers who served in Slovakia hosted two panel discussions at Peace Corps headquarters in Washington, D.C. on international service and civic engagement in honor of Peace Corps 50th anniversary. From 1990 to 2002, more than 320 Americans served as Peace Corps volunteers in Slovakia. They worked in the areas of small business development, education, and environmental awareness.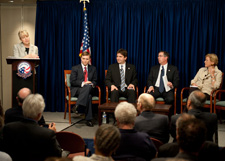 Over the last 50 years, Peace Corps has worked closely with 139 partner countries, including Slovakia, to promote world peace and friendship, said Peace Corps Deputy Director Carrie Hessler-Radelet. Peace Corps is honored to have played a small but important role in sharing community development in Slovakia. Slovakia has gone on to become a catalyst for promoting community service and civic engagement.
Both panels included a discussion on Peace Corps role in promoting community development and volunteer initiatives. Panelists included: Rodger Potocki, director of Europe and Eurasia at the National Endowment for Democracy; Lenka Surotchak, director of the Pontis Foundation, Bratislava; Tomicah Tillemann, senior advisor to the Secretary for Civil Society and Emerging Democracies at the State Department; Filip Vagac, plenipotentiary of the Government of the Slovak Republic for the Development of Civil Society; and Wendy Luers, founder and president of the Foundation for a Civil Society. Two returned Peace Corps volunteers who served in Slovakia also participated in the event.
Later in the evening, the Ambassador of the Slovak Republic to the United States Peter Burian, Friends of Slovakia Chairman Joseph Senko, and Peace Corps hosted a reception at the Embassy of the Slovak Republic in Washington D.C.
About the Peace Corps:
President John F. Kennedy established the Peace Corps on March 1, 1961, by executive order. Throughout 2011, Peace Corps is commemorating 50 years of promoting peace and friendship around the world. Historically, more than 200,000 Americans have served with the Peace Corps to promote a better understanding between Americans and the people of 139 host countries. Today, 8,655 volunteers are working with local communities in 77 host countries. Peace Corps volunteers must be U.S. citizens and at least 18 years of age. Peace Corps service is a 27-month commitment. Visit www.peacecorps.gov for more information.
# # #
---