FOR IMMEDIATE RELEASE:
Thursday, May 6, 2010
Peace Corps Hosts Congressman Mike Honda in Honor of Asian and Pacific American Heritage Month
WASHINGTON, D.C., April 6, 2010 Peace Corps hosted Congressman Mike Honda at an event in honor of Asian and Pacific American Heritage Month. Congressman Honda served as a Peace Corps volunteer in El Salvador from 1965-1967 and addressed Peace Corps staff members who attended the event at Peace Corps Headquarters.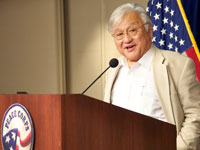 Congressman Honda was introduced by Peace Corps Director Aaron S. Williams and reflected on how his experiences as a Peace Corps volunteer shaped his public service career.
Congressman Honda has represented the 15th Congressional District of California since 2001, is a member of the House Appropriations Committee, and is serving in his 6th year as chair of the Congressional Asia Pacific American Caucus. He was born in California, but spent his early childhood with family in an internment camp in Colorado during World War II.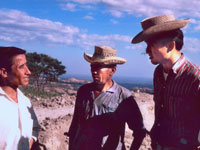 Congressman Hondas family returned to California in 1953, becoming strawberry sharecroppers in San Jos\'s Blossom Valley. In 1965, Congressman Honda answered President John F. Kennedy\'s call for volunteer service, enrolled in the Peace Corps for two years in El Salvador and returned with a passion for teaching and fluent in Spanish.
As Peace Corps approaches its 50th anniversary, its service legacy continues to promote peace and friendship around the world with 7,671 volunteers serving in 76 host countries. Historically, nearly 200,000 Americans have served with the Peace Corps to promote a better understanding between Americans and the people of 139 host countries. Peace Corps Volunteers must be U.S. citizens and at least 18 years of age. Peace Corps service is a 27-month commitment.
# # #
# # #
---